Now MGM Wants Russell Crowe For 'RoboCop'? [Update: "No," Says Crowe]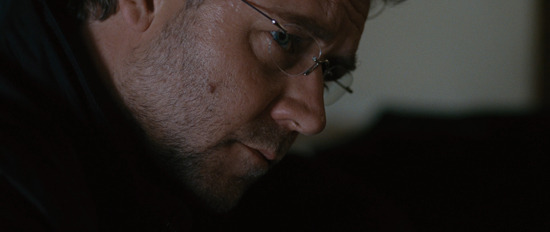 This is starting to get ridiculous. Yesterday we heard that Akiva Goldsman is still trying to call in favors with Russell Crowe, among other actors, to play a role in his directorial debut Winter's Tale. Then it came out that Darren Aronofsky wants the actor for Noah. Now MGM is supposedly looking at Crowe for RoboCop. Really?
The source here is a tweet from Variety's Jeff Sneider, who said, "Sure, Russell Crowe, MIGHT star in Aronofsky's NOAH... but do you know what else he MIGHT star in? Three words: Ro. Bo. Cop."
Given that Crowe has been attached in some form to Winter's Tale for quite a while, and with Crowe's working relationship with Goldsman in mind, that seems like the most likely of the three films to actually land the actor. Noah is reportedly further along than just being a wishlist situation (if we take Deadline's word), while this RoboCop thing sounds like more of a shortlist scenario. It's an interesting report, because it is an indicator about what MGM is thinking about for Jose Padilha's reboot of RoboCop — they're not determined to cast young — but beyond that I wouldn't expect to see a cybernetic Crowe busting ass just yet.
Oh, and when I say 'ridiculous,' I don't mean casting interest in Crowe, because his skills have been thoroughly proven. I mean the rash of info about films that he may or may not end up in, which in part seems like a bit of competitive reporting.
And I don't think Crowe is quite right for RoboCop, as that character needs an actor with a certain sort of vulnerability. Crowe can be vulnerable, sure, but I don't see him as that particular character. (I'm sure there will be many who argue with me on that point.) But if Padilha puts him in the Clarence Boddicker role...
Update: Twitter user John Dotson (@DRockDot) asked Crowe via Twitter if there was any truth to the RoboCop story. He said simply, "no." He said the same in response to another Twitter user asking about RoboCop. So that's that.