'Django Unchained' Set Photos May Give 'Deadwood' Fans Deja Vu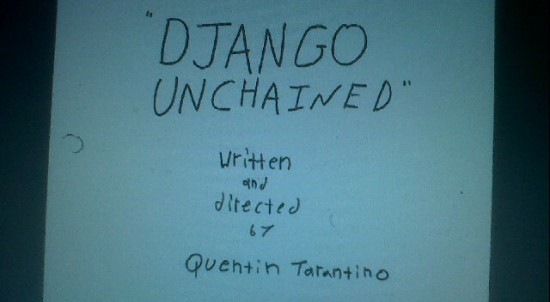 Those plans for David Milch's beloved Deadwood to live on in the form of a TV movie will likely never come to fruition, but fans may yet get an opportunity to revisit the Western town when Quentin Tarantino's Django Unchained hits theaters at the end of this year. Actor Garret Dillahunt, who played Francis Wolcott on the HBO series, recently paid a visit to the set of Tarantino's "Southern-fried spaghetti Western" and couldn't help but notice that the setting looked awfully familiar. Check out Dillahunt's TwitPics after the jump.
[Garret Dillahunt's Twitter via Collider]
Production on Django Unchained is currently underway at the Melody Ranch in Santa Clarita, where Deadwood was also filmed. Melody Ranch is just one of several area ranches often seen in Hollywood productions; Justified and True Blood are among the other projects that have shot in Santa Clarita, according to the LA Times.
Dillahunt tweeted that seeing the set "[a]ctually kinda choked me up a little bit," and that it would "always be #Deadwood to me." Sadly, none of the photos offer a look at any of the cast — all we see is a totally empty set — but I suppose it's nice that we can expect the set, at least, to look appropriately rugged.
Tarantino's latest stars Jamie Foxx as a freed slave Django, who teams up with a German dentist turned bounty hunter named Dr. King Schultz (Christoph Waltz). The pair set out to try and rescue Django's wife Broomhilda (Kerry Washington) from the clutches of evil plantation owner Calvin Candie (Leonardo DiCaprio). The truly impressive cast also includes Joseph Gordon-Levitt, Sacha Baron Cohen, Samuel L. Jackson, and many others.
The Film Stage reports that Django Unchained was previously shooting in Mammoth Lakes, CA, and will next move on to New Orleans, LA. The film is scheduled for a Christmas 2012 release.