'Get The Gringo' Trailer: Latest Mel Gibson Action Pic Avoids Big Theatrical Rollout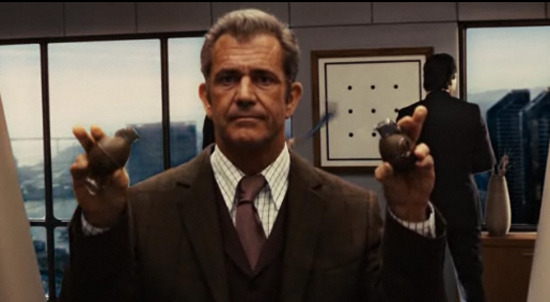 As a title for an action comedy about a guy who acquires or steals a bunch of money, runs to Mexico and ends up in prison south of the border, How I spent My Summer Vacation was cute, but maybe not quite perfect in communicating what the movie is really like. So the Mel Gibson movie, which been on the shelf for a while, is now called Get the Gringo.
The film was shot almost two years ago from a script penned by Gibson, with Adrian Grunberg co-writing and directing and Stacy Perskie producing. Both have worked as part of Gibson's directorial staff in the past (first and second A.D., respectively), and the film market their promotions to more powerful roles, with Gibson financing the movie.
The movie has sat around for a while, but that may or may not be indicative of quality. Mel Gibson has had a few problems, and his films Edge of Darkness and The Beaver weren't exactly roaring comebacks. But the distribution for Get the Gringo won't be typical: Gibson's Icon Productions made a deal with 20th Century Fox Home Entertainment to put the movie on DirecTV on May 1 and then VOD, digital download and blu-ray later this year.
But what does the movie look like? Check out a trailer below.
As a trailer, that's pretty middle of the road. But I've always enjoyed Gibson's on-screen persona, and I'll certainly watch this film. The style of the trailer reminded me of the old Psycho-Gram shorts from MTV's Liquid Television, but that actual footage looks fine, if not entirely remarkable.
The deal is a lot more interesting; we don't often see a major star (or a once-major star, depending on your perspective) take things into his own hands like this. Granted, Gibson is the same guy who made The Passion of the Christ on his own, despite resistance from many in Hollywood, and ended up scoring big with the movie. Get the Gringo isn't likely to be anything like that, but this is still an unusual and fairly remarkable deal.
Deadline premiered the trailer, and offers the first details about distribution of the film. The site says Get the Gringo will premiere in Austin at a screening hosted by Harry Knowles from AICN, with Harry moderating a post-show Q&A with Gibson, Grunberg and Kevin Hernandez, who plays the kid in the film.
One source at Icon, quoted by Deadline, is enthusiastic about the DirecTV rollout. We'll see if it works out as well as this person hopes:
We really wanted to lean into this, and they will do a very significant marketing campaign around it. It was a great way to launch this particular movie. A lot of those Sundance films going to VOD might not have a major star or be strong enough commercially to attract a wide audience. When we tested Get The Gringo, it tested 86% in the top two boxes, with all four quadrants.