'Game Change' Trailer - Julianne Moore Can See Russia From Her House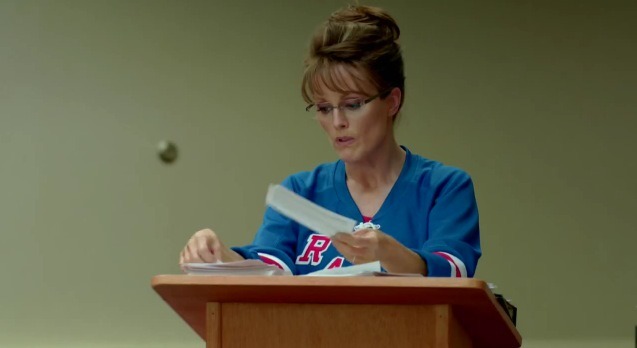 Sarah Palin has become such a ubiquitous cultural figure at this point, it's hard to believe it was just four years ago that John McCain pulled the then-relatively unknown pol into the spotlight by announcing her as his running mate for his 2008 presidential campaign. But as the 2012 race slowly heats up, now seems as good a time as any to think back to what happened the last time we as a nation chose a leader.
Directed by Emmy winner Jay Roach (Recount), HBO Films' Game Change follows McCain (played by Ed Harris), Palin (Julianne Moore), and their unsuccessful bid for the White House. Whereas the first trailer focused more on McCain and his decision to name Palin as his potential VP, the new one centers around Palin and what happens to her after she agrees to board the campaign. Watch the trailer after the jump.
Incidentally, I don't know how it's never occurred to me before that The Hunger Games' Katniss Everdeen and John McCain somehow have the same adviser in Woody Harrelson, but now I can only think of this scene as Haymitch advising McCain to give Palin a call.
It's clear that we're in for another impressive performance from Moore, whose imitation of the real-life Palin is downright uncanny. But what I really like is that the trailer draws the polarizing Palin as a three-dimensional figure, neither demonizing nor glorifying her. It's plain to see what's so maddening about this character, but it's also possible to sympathize with her growing frustration as the stresses of the campaign take their toll on her.
Also starring Sarah Paulson and Ron Livingston, Game Change premieres on HBO Saturday, March 10 at 9:00 PM. The script comes from Roach's Emmy-nominated Recount writer Danny Strong, who adapted it from John Heilemann and Mark Halperin's bestselling book of the same title.