'The Secret World Of Arrietty' Exclusive Clip: 'Captured'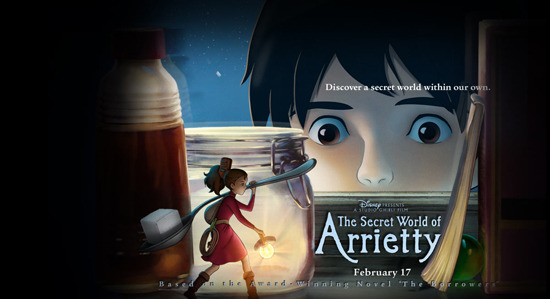 In 2010 Studio Ghibli released a film in Japan based on Mary Norton's young adult fantasy novel The Borrowers. Next month, Disney is finally releasing the film in the US, with a voice cast that includes Bridgit Mendler, Amy Poehler, Carol Burnett, Will Arnett, David Henrie, and Moises Arias.
The story features a family of tiny people who live in the hidden corners of human habitations, and who are perpetually trying to avoid discovery by humans. After the break we've got an exclusive clip from the film, that shows what happens when the efforts to avoid human discovery fail.
The Secret World of Arrietty opens in the US on February 17.
Residing quietly beneath the floorboards are little people who live undetected in a secret world to be discovered, where the smallest may stand tallest of all. From the legendary Studio Ghibli ("Spirited Away," "Ponyo") comes "The Secret World of Arrietty," an animated adventure based on Mary Norton's acclaimed children's book series "The Borrowers."