New Images: 'The Hobbit,' 'Argo,' 'Snow White And The Huntsman,' 'Sightseers'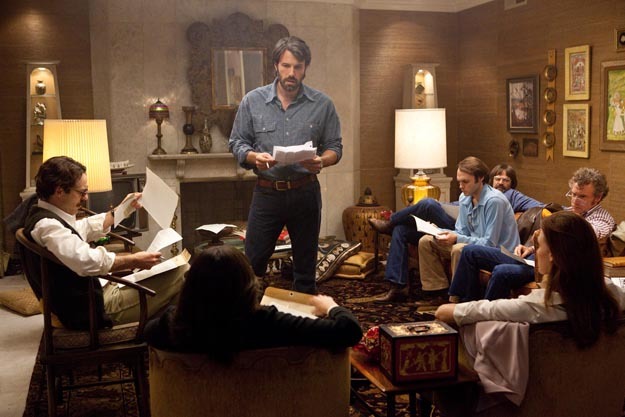 If you'd like to see Ben Affleck with a stunning Seventies beard, Chris Hemsworth and Martin Freeman each surrounded by a bunch of dwarves or the first image from Ben Wheatley's follow-up to Kill List, this post is for you. After the jump, see new images from Ben Affleck's Argo, Rupert Sanders' Snow White and the Huntsman, Peter Jackson's The Hobbit: An Unexpected Journey and Ben Wheatley's Sightseers.
Here are all the images. Credits and descriptions below.
The Hobbit image features Bilbo Baggins surrounded by a few of the dwarves and comes to us from Twitchfilm.
The Argo image features Ben Affleck, who also directs, along with several members of his impressive cast. Thanks to Coming Soon. Here's the plot description:
Based on true events, Argo chronicles the life-or-death covert operation to rescue six Americans, which unfolded behind the scenes of the Iran hostage crisis–the truth of which was unknown by the public for decades. On November 4, 1979, as the Iranian revolution reaches its boiling point, militants storm the U.S. embassy in Tehran, taking 52 Americans hostage. But, in the midst of the chaos, six Americans manage to slip away and find refuge in the home of the Canadian ambassador. Knowing it is only a matter of time before the six are found out and likely killed, a CIA "exfiltration" specialist named Tony Mendez (Affleck) comes up with a risky plan to get them safely out of the country. A plan so incredible, it could only happen in the movies.
The Snow White and the Huntsman image is from the film's Facebook and, not only features the Huntsman (Hemsworth) but all of the eight star-studded dwarves including Ian McShane, Nick Frost and others. Can you see them all?
Finally, the image from Ben Wheatley's Sightseers comes from Empire. Here's how they describe the movie:
Chris (Steve Oram) wants to show Tina (Alice Lowe) his world and he wants to do it his way – on a journey through this sceptred isle in his beloved Abbey Oxford Caravan. Tina's led a sheltered life and there are things that Chris needs her to see – the Crich Tramway Museum, the Ribblehead Viaduct, the Keswick Pencil Museum and the rolling countryside that separates these wonders in his life.
But it doesn't take long for the dream to fade. Litterbugs, noisy teenagers and pre-booked caravan sites, not to mention Tina's meddling mother, soon conspire to shatter Chris's dreams and send him, and anyone who rubs him up the wrong way, over a very jagged edge...