'Star Trek 2:' Zoe Saldana Comments, Leonard Nimoy Visiting Set; Zachary Quinto And Roberto Orci Talk 'Changing' Script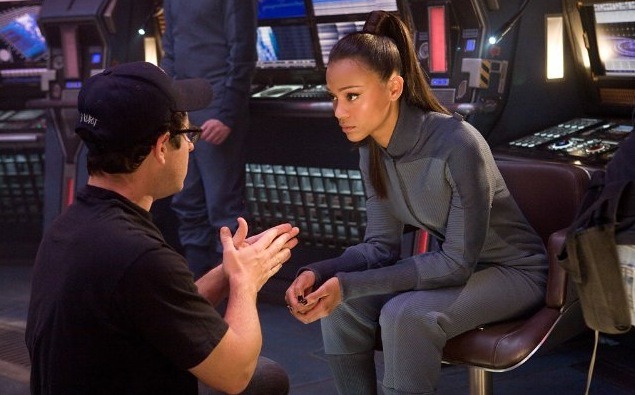 Just because J.J. Abrams and the crew of the Enterprise are currently hard at work filming the still-untitled sequel to 2009's Star Trek, doesn't mean there isn't anything new to report. Several of the film's cast and crew have been out and about giving hints about what's going on behind closed doors. For example, Zoe Saldana was at the Sundance Film Festival promoting The Words (review here) and gave a few of info about the developing relationships between Captain Kirk (Chris Pine) and Spock (Zachary Quinto), and Spock and her character Uhura.
Then there's the original Spock, Leonard Nimoy, who revealed he'll be visiting the set of the film soon, though everyone has previously said no original cast members will be in the film this time around. Finally, the new Spock, Quinto, turned some heads when he mentioned that the script for the film, written by Alex Kurtzman, Roberto Orci and Damon Lindelof was changing on a daily basis. Orci took to the Internet to clear that up and hinted at the time frame of the sequel.
Read about all of that and more after the jump.
Zoe Saldana was filming Star Trek 2 and, two hours later, was in Park City, UT for the premiere of The Words. That's where she spoke to The Playlist who, knowing full well she can't say anything specific, asked her to lie about the movie:
It's going to be boring. There's no conflict between Kirk and Spock, they agree on everything! They're beer buddies. And there are no bad guys. We're just cruising in space.
Obviously there are bad guys but her joke raises the question of a conflict between Spock and Kirk. At the end of the last film, they were good friends. It this a simple conflict or a major plot point?
Saldana also spoke to Vulture (via Trek Movie) and hinted at the development of another relationship in the film:
All I'm going to say is, if you put all the time and energy and wit into setting these two characters [Spock and Uhura] together in the first movie and didn't follow through, it would be a shame.
Head to those links for more.
TrekMovie also pointed out that Leonard Nimoy tweeted he'd be back visiting the Trek set sometime this week. Odds are it's just a sign of respect and that he won't actually be appearing in the movie but, his character was alive at the end of the last one. Speculate away.
Finally, in an interview with E Online, Zachary Quinto commented that he didn't see the script until very late in the game and that, this time, it's changing:
It was the middle of December and finally I had to be like, 'We need to read the script.' They waited a pretty long time, but that's because they were working on it. There was a writer's strike the first time so they weren't able to let the script evolve. Now it's really changing...on a regular basis.
Many people have interpreted that statement incorrectly, assuming it means the script isn't good and that it needs to be changed. Not the case says co-writer Roberto Orci, who took to the TrekMovie message boards to explain. Here's just one snippet of his larger explanation:
Finally, you should know the story hasn't change, the structure hasn't changed, and the action sequences haven't changed. Most changes are minor. The changes I suspect Quinto is referring to are the character interactions as we fine tune the level of their various friendships. How well they all know each other and what they've all been through off screen is a nuanced yet essential part of the actors understanding where they are coming from with each other. While discussing the exact same plot elements, what they've been through colors their attitude toward each other. And given that the time past in real life is different than the amount of time passed in the movie world, it takes a polish to get it just right. That's what polishes (a legal contractual word in our contract) are for.
That makes sense. Plus, he drops in the info that the "time past in real life is different than the amount of time passed in the movie world." Does that mean the film takes place immediately after the first one or some years later? We'll likely find out this Summer.
Star Trek 2 is now filming and is scheduled for release May 17, 2013, in 3D.