'Stretch Armstrong' Moves To Relativity In 2014, Taylor Lautner Out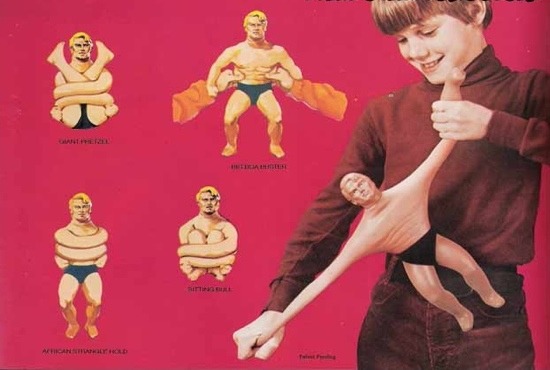 Yet another Hasbro-based movie has bitten the dust at Universal. But this one, unlike Clue, Ouija, Monopoly and Magic The Gathering, immediately found a new home. Stretch Armstrong, which was originally set up to star Twilight-phenom Taylor Lautner and be directed by Rob Letterman (Gulliver's Travels), has been dropped by Universal and picked up by their most-of-the-time partner in crime, Relativity Media. That company has already locked in a release date, April 11, 2014, but both the star and director are out. Read more after the jump.
The Hollywood Reporter first reported the news and Deadline later added the press release, along with a source who said Launter had actually been off the project for some months. He was first attached to the project in early 2010 with an April 2011 release date but, according to reports, when Abduction flopped last September, he was off Stretch Armstrong.
Relativity seems to be going at the material in a totally fresh manner as no mention is made of any of the previous work that was done over at Universal. That includes work by Imagine Entertainment, including Ron Howard and Brian Grazer, and Nicholas Stoller, who co-wrote The Muppets with Jason Segel.
Here's the full press release which includes quotes form Relativity CEO Ryan Kavanaugh and a little background on the character, in case you aren't already familiar.
Relativity Media has partnered with global branded play company Hasbro, Inc. to develop and produce a live-action tent-pole film based on Stretch Armstrong, the iconic action hero figure launched in the 1970s, it was announced today by Relativity's Co-President, Tucker Tooley and Hasbro's President and CEO, Brian Goldner.
Relativity will be the domestic distributor and will release the film internationally through its network of foreign output partners. The film is targeted for an April 11, 2014 release date.
The film will be produced by Relativity's CEO, Ryan Kavanaugh (The Fighter), Hasbro's Goldner (Transformers) and Bennett Schneir, Senior Vice President and Managing Director, Motion Pictures (Battleship). Tooley (Immortals) will serve as executive producer.
Hasbro has become an entertainment powerhouse by creating hit movies and television shows from its rich portfolio of world class brands. Since 2007, Hasbro's Transformers and G.I. Joe franchises have grossed nearly $3 billion at the worldwide box office. 2012 is shaping up to be another stellar year for Hasbro with its partners Universal Pictures releasing Battleship in April and Paramount Pictures releasing G.I. Joe: Retaliation in June. In television, Hasbro Studios produces shows like Transformers Prime and My Little Pony: Friendship is Magic that can be seen on the HUB television network in the U.S. and in more than 140 countries globally.
"We are absolutely thrilled to partner with Hasbro, a company whose global reach and ability to innovate has made them immensely successful in the arena of brand re-imagination– as evidenced by their legacy of creating such franchises as Transformers and G.I. Joe," said Tooley, "We look forward to bringing Stretch Armstrong to audiences worldwide."
"Stretch Armstrong is a great example of Hasbro's rich portfolio of intellectual properties that we are continuing to develop globally," said Goldner, "We are excited to partner with Relativity on this movie as they are a growing and innovative studio."
Stretch Armstrong is the classic action hero figure first launched by Hasbro in 1976 and re-launched in the 90's, sold successfully throughout North America and in markets across the world. The original Stretch's unique design broke free of traditional action figures, as he could be stretched over and over and always returned back to his original size. The nostalgic toy is considered to be rare and collectible to this day.