Directors Guild Of America Crowns 'The Artist' Helmer Michel Hazanavicius As Best Of 2011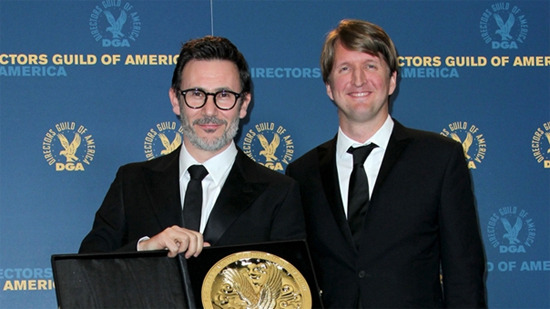 And Michel Hazanavicius and his film The Artist take one more step towards total awards dominance. The film has topped critic lists since it premiered at Cannes in May of 2011, and in the past couple weeks has become an awards juggernaut.
Last weekend The Artist won the PGA award for best picture of 2011, and last night Hazanavicius took the Director's Guild award for Outstanding Achievement in Feature Film in 2011. Given that it has been almost a decade since someone won the DGA award and didn't take the Best Director Oscar we can safely bet on the outcome of the Academy Awards, which are still a month away. (On average, the DGA award and Oscar go to different people once a decade.)
For those disappointed that the documentary Project Nim, from Man on Wire director James Marsh, didn't get an Oscar nod, his win for Outstanding Directorial Achievement in Documentary might be considered a great consolation. And Patty Jenkins, who was booted from Marvel's Thor 2, took a DGA award for directing the pilot for The Killing.
The full list of winners is below.
Here are the winners of the DGA awards:
Outstanding Directorial Achievement in Feature Film:
Michel Hazanavicius, The Artist
Mr. Hazanavicius' Directorial Team:
Unit Production Manager:  Antoine De Cazotte
Production Manager (FR): Ségoléne Fleury
First Assistant Director (FR): James Canal
First Assistant Director (US):  David Cluck
Second Assistant Directo (US):  Dave Paige
Second Second Assistant Directors: Karla Strum, Ricky Robinson
Outstanding Directorial Achievement in Movies for Television and Mini-Series
Jon Cassar, The Kennedys (Reelz Channel)
Outstanding Directorial Achievement in Dramatic Series
Patty Jenkins, The Killing, "Pilot" (AMC)
Outstanding Directorial Achievement in Comedy Series
Robert B. Weide, Curb Your Enthusiasm, "Palestinian Chicken" (HBO)
Outstanding Directorial Achievement in Musical Variety
Glenn Weiss, 65th Annual Tony Awards (CBS)
Outstanding Directorial Achievement in Reality Programs
Neil P. Degroot, Biggest Loser, "Episode #1115" (NBC)
Outstanding Directorial Achievement in Daytime Serials
William Ludel, General Hospital, "Intervention" (ABC)
Outstanding Directorial Achievement in Children's Programs
Amy Schatz, A Child's Garden of Poetry (HBO)
Outstanding Directorial Achievement in Commercials
Noam Murro (Biscuit Filmworks)
Outstanding Directorial Achievement in Documentary
James Marsh, Project Nim