Joe Carnahan To Write And Direct 'Death Wish' Remake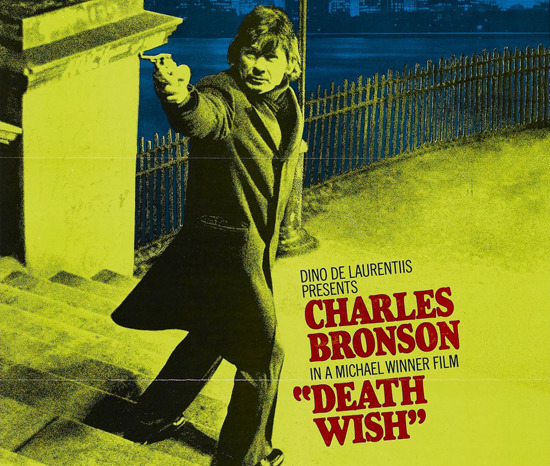 I'm not sure what to make of this. Only hours after Joe Carnahan reasserted himself with the release of The Grey (my positive review is here), the director was announced as the writer and director of a remake of Death Wish.
Originally released in 1974, Michael Winner's Death Wish is a pretty slight film that nevertheless hit a nerve as fears of urban crime started to escalate. Charles Bronson plays Paul Kersey, an architect whose wife is killed during a home invasion that leads to rape; his daughter is caught up in the same event and is institutionalized as a result. Re-introduced to firearms during a business trip, Kersey takes to the streets of New York as a vigilante. Walking around alone at night, he deliberately invites criminal acts, then shoots the perpetrators.
Death Wish has been on the table as a remake or reboot over the past couple decades. What will Joe Carnahan do with it now?
The LA Times announces the deal, and doesn't have much to offer about the project other than that it is intended as a reboot of Michael Winner's film.
So what does Death Wish have to say today? Urban crime is generally on the decline. Even in my home of Atlanta, where robberies and street crime are still relatively common, overall crime figures are down. We've got a severaly budget-challenged police force which has nonetheless savaged a couple of local criminal gangs. New York, meanwhile, is a completely different city than it was in the early '70s, and a far safer one. (Though a friend of mine was robbed at gunpoint on the Upper East Side about 24 hours before this remake was announced, so I can't say that NYC street crime is gone.)
When Death Wish was released there was a great disparity between the film and reality. NYC wasn't a safe place, but there was also quite a lot of crime in Tuscon, AZ, which is presented in the film as an idyllic Western safe zone. The movie was pure exploitation, and depicted crime accordingly. That is: through a lens with fantasy smudged all over it. Winner's original film took a lot of criticism for depicting aggressive vigilante action which is widely endorsed by the public, and for presenting Kersey's violence as helpful. It has a take on the split between liberal and conservative social and policy views that is writ in 50-foot neon letters.
Crime is a perpetual societal bugaboo, though, and I think the average person is not more educated about how street criminals really operate now than they were forty years ago. The split between liberal and conservative viewpoints, as represented in the press at least, hasn't been this dramatic in decades. And a little bit of violent fantasy fulfillment never goes out of style, as evidenced by a great many movies released every year.
But what can a new Death Wish do that is really current and vital? If the movie comes down once again to a victimized liberal who turns violent after an exposure to crime, it seems like it will just be a reflection of the original movie's old attitudes. (And those of the novel it was based on.)
I will say that there could be one great outcome of this project: Death Wish 3, the crazy, over the top, totally nuts entry in the five-chapter Death Wish series, could finally be issued on blu-ray. And if somehow you've never seen the original film, check it out for some early scenery-chewing from Jeff Goldblum, a small early Christopher Guest role, and a 'blink and you'll miss him' appearance from Denzel Washington. Vincent Gardenia is great as the lead cop, too.