Matthew Broderick Returns As Ferris Bueller... To Sell Cars For Honda?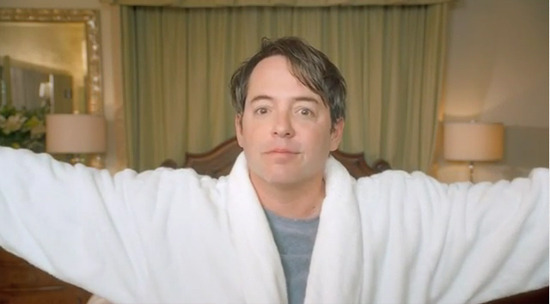 How's your '80s nostalgia level today? If it is feeling a little low, take a look at the ten-second preview clip for a Honda ad that will run during the Super Bowl. In the clip, Matthew Broderick teases a reprise of one of his most-loved roles: Ferris Bueller, complete with a bit of Yello's signature song 'Oh Yeah.'
The clip showed up yesterday with this explanation: "We hate to be such a tease, but on a day like today, we just have to. Stick it out until the Super Bowl, or take a "day off" on Monday and catch the big reveal." It caused a lot of speculation: what is Ferris doing? Or, more to the point, what is he selling? Turns out that he's selling a car made by Honda. That's the report from Gawker's auto blog Jalopnik. The site also reports that Todd Phillips (The Hangover, Old School) is behind the spot.
The clip will supposedly recreate several key scenes from Ferris Bueller's Day Off, but with that film's Ferrari replaced with a new Honda CR-V. I don't think that counts as a one-to-one swap, no matter what Honda might like us to think. But if you just love Ferris so much that any excuse to bring the character back to the screen is a good excuse, then the ad will probably scratch your itch.