'Mirror Mirror' International Trailer Is An Improvement Over The Domestic One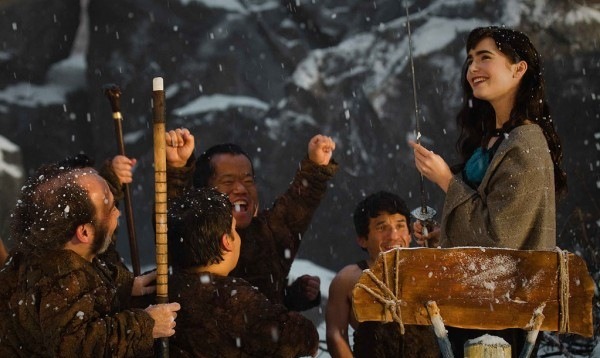 I can't tell whether it's that the footage of Tarsem Singh's Mirror Mirror is truly getting better, or whether I'm just developing some weird cinematic version of Stockholm Syndrome. But after kind of hating the first trailer, the film started to grow on me with yesterday's featurette, and now this new international trailer has me kind of, sort of, actually looking forward to seeing it.
The new video offers up a bit more than the previous one did in terms of plot, and serves up some fresh jokes as well. Lily Collins stars as the fairytale princess, while Armie Hammer plays the handsome prince, Julia Roberts the evil queen, and Nathan Lane her pitiable sycophant. Watch the video after the jump.
I don't expect Mirror Mirror to wind up being one of my favorites of the year or anything like that, and anyway I'm not really in the target audience for this "sickeningly kiddie" movie. But there's definitely something to be said for how unapologetically weird it looks — love it or loathe it, at least it's unique. It also helps that the jokes shown in the new video aren't quite as egregiously cheesy as the ones shown in the first trailer. Maybe Relativity thinks international children have more refined senses of humor.
Roberts still looks pretty miscast here, and not in a good way, and Collins already seems like she's getting upstaged by every other character in this movie. Hammer, on the other hand, is clearly having tons of fun with his goofy, apparently kind of stupid character, and I love him for it. (Even if his "romance" with Collins looks straight out of a second-rate CW show.) And of course, the costumes by Eiko Ishioka still look utterly gorgeous.
Mirror Mirror will hit theaters March 30.