McG's Action Romcom 'This Means War' Gets R Rating [Updated With New PG-13 Info]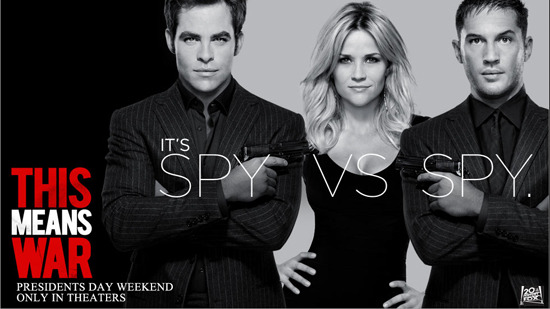 Briefly: It is probably shallow to become more interested in a movie when the rating is R rather than PG-13. But then, the action/comedy/romance This Means War looks fairly shallow, so my slightly elevated interest in the movie might be a perfect match for it. The film stars Chris Pine and Tom Hardy as best friends who are also partners in the CIA. But their friendship is torn asunder when they fall for the same woman, played by Reese Witherspoon.
While Fox was hoping to get the film on screens with a PG-13 rating, the MPAA gave it an R, and upon appeal the board upheld the rating. Why is the film R? Does Chris Pine's head explode? Nope — it is just R for "some sexual content." Oh, that repressed MPAA! I can't imagine the sex in the movie being all that crazy, but we'll see what the story really is when the film is released on Tuesday, February 14. Or, the Valentine's Day release was the plan; now that the film will go out with an R, perhaps it will be pushed back tpo the 17th once again.
UPDATE: Deadline now reports that "a couple of racy jokes" were cut, and the film was granted a PG-13 rating.
Check out the trailer again after the break.
[Deadline]