'Journey 2: The Mysterious Island' Trailer - Before Josh Hutcherson Was Peeta Mellark, He Was Explorer Sean Anderson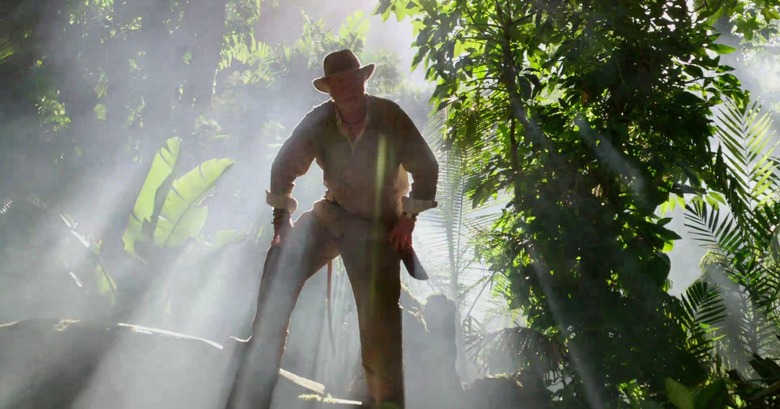 With all the fuss about this spring's The Hunger Games, I'd almost forgotten all about Josh Hutcherson's other blockbuster franchise, which began in 2008 with Journey to the Center of the Earth. But Hutcherson hasn't, of course, and he'll be reprising his role next month in Journey 2: The Mysterious Island.
Hutcherson plays lead Sean Anderson, who teams up with his stepfather (Dwayne Johnson) to explore the fantastical, heavily CGI-ed wonderland of the title. Also along for the ride are a wacky helicopter pilot (Luis Guzman) and his daughter (Vanessa Hudgens), as well as Sean's adventurous grandfather (Michael Caine). Watch the new trailer after the jump.
[Yahoo!]
The new trailer is fairly similar to the international trailer released back in November, with (I believe) even less emphasis on the teen romance angle. Sadly, despite Johnson and Hutcherson's pre-trailer promises, this trailer appears to be significantly shorter on the pec pops that were the among the highlights of the first teaser.
Overall, I can't say that Journey 2 looks all that impressive. The CGI scenery is pretty but totally unconvincing, and though I understand that not everything can compete with Avatar, I can't help thinking that the flora and fauna here really do suffer in comparison. But if you're looking for a light family film, this looks like a pleasant enough way to spend two hours. Journey 2: The Mysterious Island opens February 10.
Synopsis:
Young Sean Anderson receives a coded distress signal from a mysterious island where no island should exist. It's a place of strange life forms, mountains of gold, deadly volcanoes, and more than one astonishing secret.
Unable to stop him from going, Sean's new stepfather, Hank, joins the quest. Together with a helicopter pilot and his beautiful, strong-willed daughter, they set out to find the island, rescue its lone inhabitant and escape before seismic shockwaves force the island under the sea and bury its treasures forever.