Monty Python Members To Voice Aliens In Sci-Fi Comedy 'Absolutely Anything'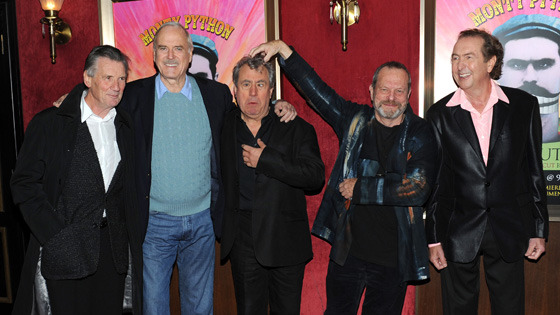 The surviving members of the Monty Python troupe –  John Cleese, Terry Gilliam, Eric Idle, Terry Jones, and Michael Palin — have very rarely appeared as Monty Python since the death of Graham Chapman in 1989.
But the five actors have shown up together in various configurations in a few projects over the years. Now a new one is brewing: Absolutely Anything, a hybrid live-action/CG sci-fi farce that is planning to feature the living Pythons as "a group of aliens who endow an earthling with the power to do "absolutely anything" to see what a mess he'll make of things."
Variety reports that the film will be directed by Terry Jones, who last made The Wind in the Willows in 1996, itself a sort of minor Python reunion. (Jones also co-directed Monty Python and the Holy Grail, and directed Life of Brian and The Meaning of Life.) He told the trade, "it's not a Monty Python picture, but it certainly has that sensibility."
Jones and Gavin Scott have worked on the screenplay on and off over two decades, and the story also features a talking dog "who seems to understand more about the mayhem that ensues than anyone else does." Robin Williams is attached to voice that character. He could also play another role, "a pompous Frenchman reminiscent of Inspector Clouseau."
Right now, Terry Gilliam, John Cleese and Michael Palin have agreed to voice alien characters, and producer Mike Medavoy (The Pink Panther, Black Swan) and the other producers are working on signing Eric Idle.
I like the sound of this so far — reminds me in a way of something that Douglas Adams might have cooked up.
Director Terry Jones, by the way, is also reported to be working on a metal version of The Nutcracker, with lyricist Jim Steinman, and is co-writing an opera based on The Owl and the Pussycat. That one will be presented on barges on the Thames during the London Summer Olympics.