'What To Expect When You're Expecting' Character Posters: Like Cosmo Covers Without The Sex Tips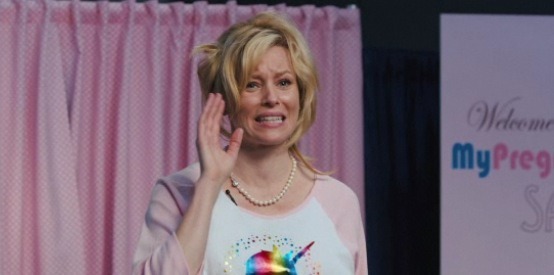 At first glance, What to Expect When You're Expecting doesn't seem terribly different from similarly star-studded snoozefests like He's Just Not That Into You and New Year's Eve. But the marketing folks are clearly hoping to set themselves apart by putting the emphasis on the "comedy" part of "romantic comedy," and their latest effort is a series of character posters that play up the film's raunchy sense of humor.
Or try to, anyway. Mostly, they just succeed in making everyone look very heavily Photoshopped (has Brooklyn Decker always looked that much like Missi Pyle?) with cringeworthy lines next to their heads. Sort of like a Cosmo cover, only without the promise of sex tips. Check them out after the jump.
I sincerely hope this is the first and last time I ever have to see the talented, lovable Anna Kendrick with a quote about peeing hovering inches away from her head. Jennifer Lopez must have some good people, because her poster is downright innocuous. Bland, but seeing as phrases such as "like crazy horny" and "bull$#!%" aren't involved, I'd say she wins.
If you're at all curious about the plotline, here are the main threads (via Lionsgate's website):
Over the moon about starting a family, TV fitness guru Jules (Diaz) and dance show star Evan (Matthew Morrison) find that their high-octane celebrity lives don't stand a chance against the surprise demands of pregnancy.
Baby-crazy author and advocate Wendy (Elizabeth Banks) gets a taste of her own militant mommy advice when pregnancy hormones ravage her body; while Wendy's husband, Gary (Ben Falcone), struggles not to be outdone by his competitive alpha-Dad (Dennis Quaid), who's expecting twins with his much younger trophy wife, Skyler (Decker).
Photographer Holly (Lopez) is prepared to travel the glove to adopt a child, but her husband Alex (Rodrigo Santoro) isn't so sure, and tries to quiet his panic by attending a "dudes" support group, where new fathers get to tell it like it really is.
And rival food truck chefs Rosie (Kendrick) and Marco's (Chace Crawford) surprise hook-up results in an unexpected quandary: what to do when your first child comes before your first date?
Directed by Kirk Jones from a script by Shauna Cross and Heather Hach, What to Expect When You're Expecting hits May 11, 2012. [iVillage]