RIP Movies: Paul Giamatti Says 'The Goon' Ran Out Of Money, Warner Bros. Kills 'Elfquest'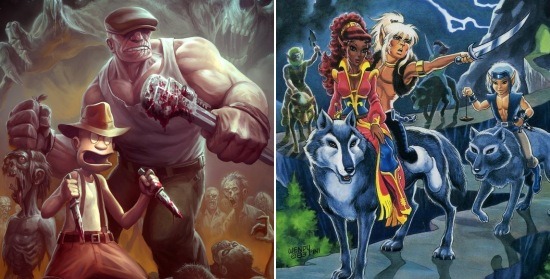 It's a sad day for comic book fans, as we get updates that suggest two long-gestating adaptations, David Fincher's The Goon and Rawson Thurber's Elfquest, are no longer happening. Sure, they could get revived somewhere down the line — crazier things have happened — but if I were you, I wouldn't hold my breath. Hit the jump for updates.
Fincher offered a small update last month, telling SuperHeroHype that people have been working on The Goon but that the budget was still being worked out. However, Giamatti sounded decidedly less optimistic when IFC caught up with the actor at the Sundance Film Festival this week.
"I have no idea what the hell happened," said Giamatti. "I asked and no one knows. I guess they just ran out of money." Fincher and Blur have been trying to get the movie made for years with little luck, and if Giamatti's comments are anything to go by, it seems doubtful that their fortunes will be changing anytime soon.
But The Goon's years of being stuck in limbo are nothing compared to the literal decades that the comic book adaptation Elfquest has been mired in development hell. First conceived as an animated feature in 1981 (seriously!), the project's suffered numerous stops and starts and changes over the years. Warner Bros. has been working on the latest incarnation of the project since 2008, with Thurber (Dodgeball) set to write, direct and produce. However, it now seems that this version of the film has been killed as well — and it's all thanks to Peter Jackson's The Hobbit.
"After close to four years of suspense – and longer than four years of your much-appreciated interest and support – the word has come down from Warner Bros," comic co-creator Wendy Pini wrote on Facebook (via Bleeding Cool) . "And the word is 'no.' Their simple explanation is that they don't want to compete with The Hobbit. This was a possibility, among several, that we were prepared for. It is a relief, at last, to know."
It's questionable whether Elfquest is really all that similar to The Hobbit, but I suppose it doesn't really matter. The point is that after three decades of waiting, Elfquest still isn't any closer to making it to the big screen.