'Ghost Rider: Spirit Of Vengeance' Behind The Scenes Reel Highlights Adventurous Directors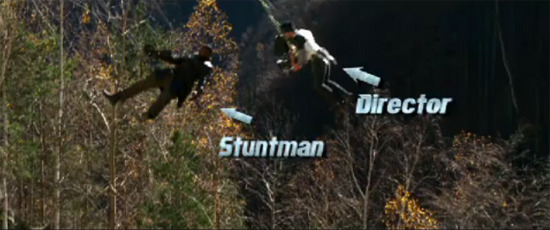 It's been a bumpy ride for Ghost Rider: Spirit of Vengeance. The film is a sequel to a movie very few people liked; when first announced there wasn't a lot of enthusiasm for the project. Then Crank and Gamer directors Mark Neveldine and Brian Taylor came on board. Their hyper-kinetic, seat of the pants directorial style seemed so perfect for Ghost Rider that expectations elevated a bit. A Comic Con appearance featuring a lot of wild clips from the movie along with some great behind the scenes footage generated a legitimate sense of enthusiasm for the movie.
Then Spirit of Vengeance premiered at Harry Knowles' 24-hour film marathon / birthday party this year, and things deflated really fast.
Just for the sake of fun, let's turn back to the days of all that Comic Con excitement. If you weren't in Hall H when Sony showed off the behind the scenes footage from Spirit of Vengeance, you can now check it out below. No matter how the final film actually plays, this is a great making-of clip. It might be a lot more fun to watch than the film.
I like seeing Brian Taylor rocking his Comic Con-made Sex Bob-Omb shirt, but I really love watching some of the absurd stuff the two guys to to get a shot. I could almost see a feature-length making-of being something worth watching.
Ghost Rider: Spirit of Vengeance also stars Ciaran Hinds, Violante Placido, and Johnny Whitworth. It hits theaters on February 17, 2012.
Nicolas Cage returns as Johnny Blaze in Columbia Pictures' and Hyde Park Entertainment's Ghost Rider:  Spirit of Vengeance. In the successor to the worldwide hit Ghost Rider, Johnny – still struggling with his curse as the devil's bounty hunter – is hiding out in a remote part of Eastern Europe when he is recruited by a secret sect of the church to save a young boy (Fergus Riordan) from the devil (Ciaran Hinds). At first, Johnny is reluctant to embrace the power of the Ghost Rider, but it is the only way to protect the boy – and possibly rid himself of his curse forever. Directed by Mark Neveldine and Brian Taylor. Screenplay by Scott M. Gimple & Seth Hoffman and David S. Goyer. Story by David S. Goyer. Based on the Marvel Comic. Produced by Steven Paul, Ashok Amritraj, Michael De Luca, Avi Arad, and Ari Arad.