'Beasts Of The Southern Wild' - Sundance's Most Buzzed About Movie Creates A Whole New World [Sundance 2012 Video Blog]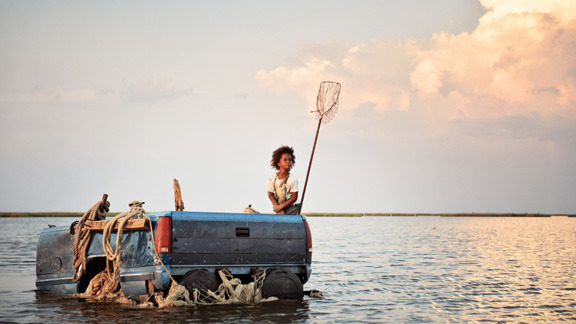 Editor's Note: We're re-running Germain's review of this film from Sundance, as Beasts of the Southern Wild is in theaters now, and very much deserves your attention.
When the film world converged on Park City, Utah for the 2012 Sundance Film Festival, several movies were highly anticipated. Beasts of the Southern Wild was not one of them. But in the truest and most exciting tradition of this legendary film festival, word of mouth after the first screening spread like wildfire and Benh Zeitlin's directorial debut became the talk of the town. Fox Searchlight purchased the film for distribution and screenings later in the week all sold out.
So does Beasts of the Southern Wild live up to those wild expectations? Absolutely. It creates an entire new world where a six-year-old girl named Hushpuppy (Quvenzhane Wallis) lives in squalor with her father Wink (Dwight Henry). When Wink gets sick, Hushpuppy's world is almost literally turned upside down and she must come to grips with her inner strength, her mortality, and a whole lot more.
After the jump, read more about this fantastic film or – if you aren't in a reading mood – watch a video blog featuring Peter and myself.
Here's the video blog. The review continues below:
Back to the review.
The biggest compliment I can give Zeitlin's film is that it truly made me believe Hushpuppy's world, a place nicknamed The Bathtub, was real. Though the movie regularly goes off onto metaphoric tangents, every single moment feels so incredibly authentic that it sucks the audience in and makes them forget they're watching a total and utter fabrication. The Bathtub doesn't exist. There's no place on the outskirts of reality where people live off the land and the leftover scraps of society. Yet because of Zeitlin's vision, and the performances of his unprofessional cast, it works.
There's also this huge mythos created by the film involving prehistoric creatures, melting ice caps, and a world on the water. Whether you choose to buy into that as figurative or literal, the film still makes complete sense. The audience can transpose their own thoughts and beliefs onto Hushpuppy's problems and, just like they say in the film, everything has its place. That ambiguity might get in the way for some people, but will delight others.
Beasts of the Southern Wild is a film about which I could ramble on about at length. I probably will in the coming months. There's much to be said about the incredible production design, the rousing score (co-composed by Zeitlin himself) and stunning visuals. Then, after seeing the film, there are specific moments and encounters that can be analyzed with varying degrees of relevance. Right now, though, the most important thing to take away is Beasts of the Southern Wild does several things films aspire to but rarely achieve: it transports you to a whole new world, stimulates your intellect and sparks conversations. This Benh Zeitlin guy is one to watch. So is his film.
/Film Rating: 9.5 out of 10