'Safety Not Guaranteed' Is The Most Ridiculously Awesome Misfit Time Travel Relationship Dramedy Ever Made [Sundance 2012]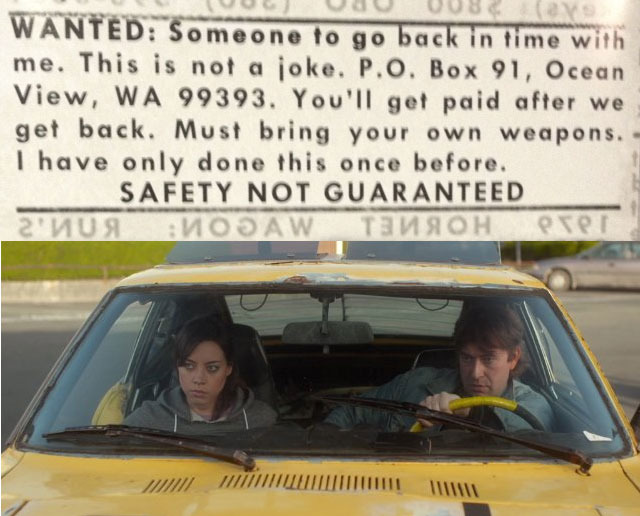 Safety Not Guaranteed starts out with a simple premise: Three employees from a Seattle weekly magazine are assigned to go on a trip to find and interview a guy who placed a mysterious classified ad seeking a companion for time travel. (The ad is seen above).
Was it a joke? Or is the guy crazy? Intern Darius Britt (Aubrey Plaza) is sent in to try to uncover the true story. Darius joins Kenneth Calloway's (Mark Duplass) time travel mission and forms a friendship with this seemingly delusional man. With Government-style suited men in hot pursuit, Darius is unsure if she has been implicated in something illegal or if Kenneth is actually telling the truth. And Darius has gotten too close to Kenneth to betray him or know for sure.
Meanwhile, Jake Johnson is trying to hook up with an old high school flame who now lives in the area, as well as trying to get the virgin Indian intern Arnau (Karan Soni) laid. These two side story-lines aren't as strong as the main arc, but there is still enough laughs to keep it entertaining.
I've been calling this the most ridiculous yet awesome misfit time travel relationship comedy ever made, which in itself is ridiculous. The fact of the matter is that there is no other movie I've seen quite like this. Sure, the whole "is he insane or is he really –insert some sci-fi thing here–" plot has been used before in K Pax, Michael, Special, Phenomenon, Miracle of 34th Street, Sound of My Voice (which sold to Fox Searchlight last year at Sundance) and others. But Safety does it a bit differently; not like you've seen before.
The hilarious script is actually based on a real classified ad from years ago. The man who placed the ad gave the producers permission to use it as a starting point for a film, and he even has a cameo in the movie.
But Safety Not Guaranteed isn't just a comedy. The story has real heart. That, and Star Wars jokes. The climax of the film was met by the largest applause that I've heard at Sundance this year. Festival-goers were on cloud nine leaving the theater. I wouldn't be surprised to see this film win the audience award. I would be surprised if the film doesn't get picked up quickly.
Aubrey Plaza is charming. I first saw her in Mystery Team at the festival in 2009 and said she was a young talent to watch. Plaza has since had some mainstream roles in Funny People, Scott Pilgrim and has become a regular on the hit comedy series Parks and Rec. Safety is Plaza's first starring role, and she runs with it.Mark Duplass plays the character seriously for great comedic effect. He might be insane but you want to believe that he's for real. Jake Johnson is also great in a supporting role. Johnson is an up and coming name in comedy, who now has a starring role on the hit tv series New Girl. You might also recognize him as the on-screen director in Paper Heart or as Teddy in Max Winkler's Ceremony.
I expect to see great things from director and co-writer Colin Trevorrow. This is his feature debut and he already has a couple projects on his slate including writing World War X (about a man recruited by the government to prevent a terrorist from the future who is using time travel in order to reshape history) for Warner Bros.
/Film Rating: 8 out of 10