Anna Kendrick And Bryan Cranston Offered 'Get A Job', Miles Teller In Talks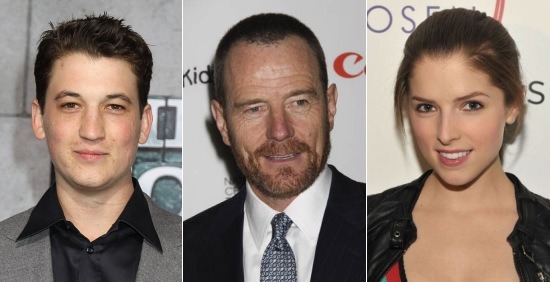 Eight years after his sophomore directorial effort P.S., Dylan Kidd is heading back into feature filmmaking with a new comedy for CBS Films titled Get a Job. And he's got his eye on some intriguing young stars (and Bryan Cranston) for the lead roles: Miles Teller is in talks for one of the leads, while offers have gone out to Cranston and Anna Kendrick for other roles. Meanwhile, Christopher Mintz-Plasse, Jay Pharoah, and Jesse Eisenberg, who starred in Kidd's debut Roger Dodger, are said to be circling as well. More details after the jump.
Teller first broke out in 2010's Rabbit Hole opposite Nicole Kidman, and has been on his way up since then with roles in Footloose and the upcoming Project X and 21 and Over. Kendrick appeared in last year's 50/50 and The Twilight Saga: Breaking Dawn – Part 1, and has about a half-dozen films due out in 2012, from the ensemble romcom What to Expect When You're Expecting to Robert Redford's The Company You Keep. Cranston, best known for his role in AMC's Breaking Bad, is currently starring in Red Tails and will next appear in this spring's John Carter.
Kidd got off to an auspicious start with 2002's Roger Dodger, though his 2004 follow-up, P.S., opened to mixed reactions. Since then, he's dabbled in television, directing episodes of Adult Swim's Childrens Hospital.