'V/H/S' Reinvents The Horror Anthology Movie With Terrifying "Found Footage" [Sundance 2012]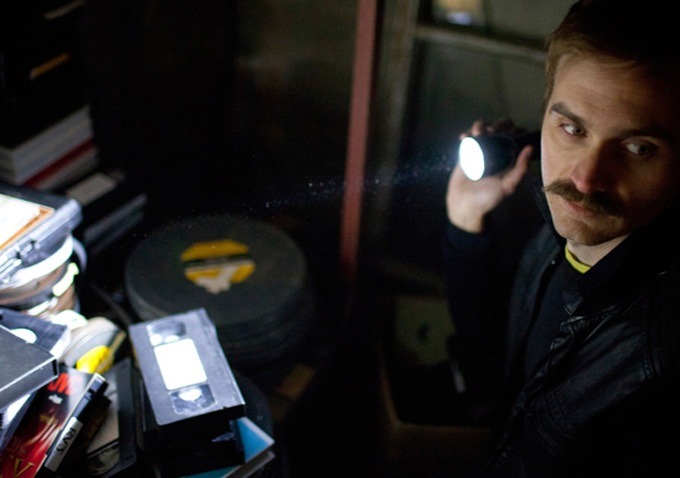 V/H/S is the return of the horror anthology film. The subgenre used to be a very regular thing during the 1970's and 1980's thanks to films like Tales from the Darkside, Creepshow and Dead of Night, but has dropped out of the mainstream in recent years. (Michael Dougherty's Trick 'r Treat being the latest anthology of note.) BloodyDisgusting head Brad Miska came up with a novel way to bring back the anthology concept — mashing it with the found footage subgenre. (Paranormal Activity, Cloverfield, etc.)
This might sound questionable on paper, but the result is genius.
The thing I love most about a found footage anthology movie is that it allows you to experience some interesting and fun concepts without the risk that they would have outworn their welcome at a feature length.
The film is structured around a wrap-around story of a bunch of Jackass-on-crack troublemakers with video cameras who break into an old man's house to steal a VHS tape. Inside the house, they find a stash of tapes which end up being the short films that comprise the movie. The films are directed by David Bruckner (The Signal), Glenn McQuaid (I Sell The Dead), Joe Swanberg (Hannah Takes The Stairs), Ti West (House Of The Devil), Adam Wingard (You're Next), and the filmmaking collective named Radio Silence. Sadly the stories don't connect in any other way, and it is never explained why the old man has collected all of these tapes. As with most anthology films, the wrap-around storyline is usually the weakest — just an excuse for the movie to exist, and not much more.
The film is also a response to the current trend of PG-13 horror films. There is blood and guts, private parts get ripped apart, and you'll see a bunch of topless women. While I expect this film to sell quick, this is a reason you might not see V/H/S in your local small town multiplex.
The short films range in subject matter from paranormal experiences to serial killers, haunted houses to monster attacks. It's nice and varied, with something for everyone — and its not always what you expect. The highlight is probably a story which follows a bunch of kids who take two girls back to a hotel room. Something is odd about one of the girls, and I won't give away more.
These shorts are terrifying, but also clever. One of the stories is shot from a pair of video sunglasses that you would buy in a spy shop, giving a POV view of the horror. Swanberg's segment is shot using a Skype video call between a a college-aged girl who is experiencing strange noises in her house, and her long distance boyfriend. As you can imagine, both of these segments use their limitations to great effect.
/Film rating: 7.5 out of 10