Elizabeth Olsen, Dakota Fanning, Anton Yelchin To Star In Naomi Foner's 'Very Good Girls'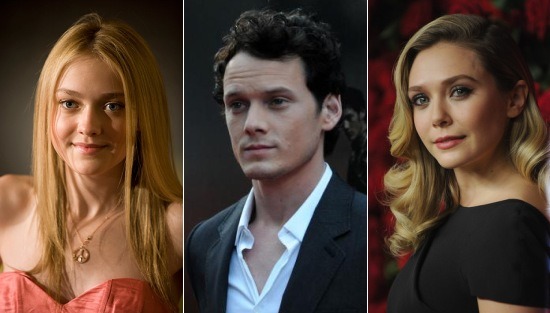 I suppose it's not really correct to call Anton Yelchin and Dakota Fanning up-and-comers, seeing as each of them has been in the industry for over a decade. But as they transition into increasingly grown-up roles, it still feels like we're seeing the emergence of pair of promising young actors. Elizabeth Olsen, on the other hand, is about as fresh-faced as they come. Last year's Sundance hits Silent House and Martha Marcy May Marlene were her first real roles, aside from a tiny part in her sisters' How the West Was Fun way back in 1994.
The three are now in final talks to star in Very Good Girls, from another not-quite newcomer, Naomi Foner. Though Foner's been working as a writer and producer since the '70s, the upcoming project will mark her directorial debut. More details after the jump.
"The film deals with female sexuality and friendship in a way we haven't seen before," says Foner, whose previous credits include the dramas Running on Empty, Losing Isaiah, and Bee Season. "These girls will be stunning young women in a couple of years, but they've struggled through high school with only each other. Most of us have been there. This is the summer where they finally get to touch real life."
Olsen most recently starred in Josh Radnor's Liberal Arts, which hit the Sundance Film Festival just this past weekend. She's next slated for Therese Raquin and Kill Your Darlings. Fanning has several films lined up for 2012, including Now is Good, The Motel Life, Effie, and The Twilight Saga: Breaking Dawn – Part 2. Yelchin is currently shooting J.J. Abrams' Star Trek sequel and will star in this year's Odd Thomas. Very Good Girls will shoot this June in New York City.
[Source: Deadline]