'The Forgiveness Of Blood' Trailer - 'Maria Full Of Grace' Helmer Returns To The Big Screen With Albanian Blood Feud Tale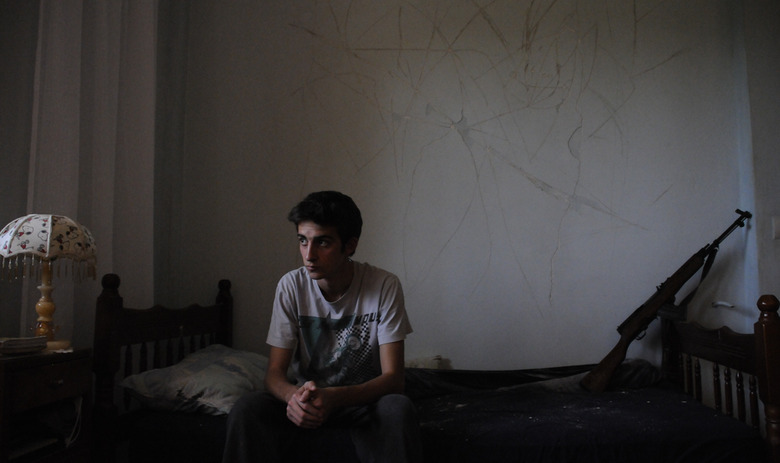 After breaking out in 2004 with the acclaimed Maria Full of Grace, director Joshua Marston moved into television, helming episodes of Six Feet Under, In Treatment, and How to Make It in America. Now, eight years later, Marston's finally returning to the silver screen with his second feature The Forgiveness of Blood.
Written by Marston and Andamion Murataj, the Albanian-language drama deals with the life-changing consequences of a violent altercation between two small town families. Like Marston's previous film, The Forgiveness of Blood features inexperienced actors in the lead roles — and as with Maria Full of Grace, which earned star Catalina Sandino Moreno an Oscar nomination for her first professional role, Marston seems to draw some rather impressive performances here from young stars Tristan Halilaj and Sindi Laçej. Watch the first trailer after the jump.
[via The Playlist]
The Forgiveness of Blood won the Silver Bear Award for Best Screenplay upon its world premiere at the Berlin Film Festival last year, and though the reviews I've read aren't quite as strong as they were for Maria Full of Grace, overall it's been well received on the festival circuit over the past several months. Sundance Selects acquired the picture last spring, and has it scheduled for a limited U.S. release starting February 24.
Synopsis:
Winner of the Silver Bear for Best Screenplay at the Berlin Film Festival, the powerful and richly textured second feature from Joshua Marston (Maria Full of Grace) focuses on an Albanian family caught up in a blood feud. Nik (Tristan Halilaj) is a carefree teenager in a small town with a crush on the school beauty and ambitions to start his own internet café. His world is suddenly up-ended when his father and uncle become entangled in a land dispute that leaves a fellow villager murdered. According to a centuries-old code of law, this entitles the dead man's family to take the life of a male from Nik's family as retribution. His uncle in jail and his father in hiding, Nik is the prime target and confined to the home while his younger sister Rudina (Sindi Laçej) is forced to leave school and take over their father's business. Working with non-professional Albanian actors and a local co-writer, Marston boldly contrasts antiquated traditions with the lives of the young people whose future is put at risk by them.