First Look: Vin Diesel In New 'Riddick' Sequel

Whether or not you're a fan of Vin Diesel and David Twohy's films featuring the character Riddick (Pitch Black and The Chronicles of Riddick), I think you have to admire the fact that, after years of being determined to make a third film featuring Diesel's character, the duo is finally getting the movie made. Their fuel seems to be nothing short of pure willpower.
It hasn't been easy — the project has been dismissed from the beginning, and thanks to its indie status has had some money trouble that caused the production to be put on hold late last year as it geared up to shoot. But the production is up and running once more, and Diesel has offered up the first look at his third turn as Riddick.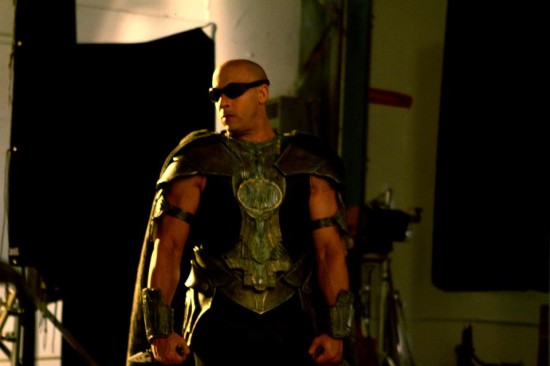 The image appeared last night on Diesel's Facebook page. No big explanation accompanied it, but what do you need? It is Diesel as Riddick. The actor did say,
Grateful for the opportunity to make magic... Thank you.
P.s. One from the set...
This is the updated synopsis that has been thrown around for the film:
Betrayed by his own kind and left for dead on a desolate planet, Riddick (Diesel) fights for survival against alien predators and becomes more powerful and dangerous than ever before. Soon bounty hunters from throughout the galaxy descend on Riddick only to find themselves pawns in his greater scheme for revenge. With his enemies right where he wants them, Riddick unleashes a vicious attack of vengeance before returning to his home planet of Furya to save it from destruction.
Katee Sackhoff and Jordi Mollà are looking like a couple of the other big players for the film.  They'd play, respectively, Dahl, a mercenary tracking Riddick, and Santana, another mercenary who leads a team of eight in hunting down and killing Riddick.
I'm not much of a fan of the Riddick movies — I prefer the two video games — but despite the fact that I'm not one of the people clamoring for this movie, I'm glad Twohy and Diesel are doing it. I may never watch the film, but there are a lot of other filmmakers and actors that I wish could muster up the money and momentum to make their own similar projects. [Facebook]