Katniss And Peeta Are Dressed To Impress In New 'Hunger Games' Photo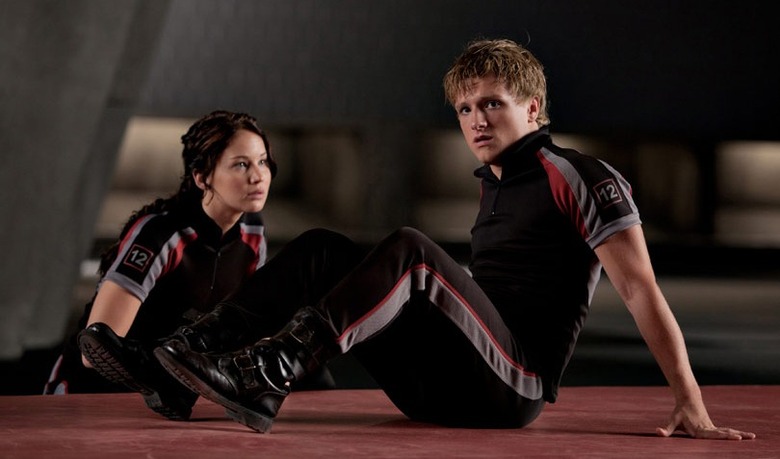 What's interesting about the marketing for Gary Ross' The Hunger Games is that although we've already seen quite a bit of the film in the form of clips and photos, fans of the source material can attest that there's still quite a bit they're holding back. With about two months left til the film hits theaters, yet another still has been released, and in typical Hunger Games fashion it teases what's bound to be one of the more visually dazzling sequences in the movie without totally giving away the goods.
In the new photo, Katniss (Jennifer Lawrence) and Peeta (Josh Hutcherson) are dressed to the nines in outfits designed by their stylist Cinna (Lenny Kravitz) for the opening ceremonies of the 74th annual Hunger Games. Check out the picture after the jump.
[via Cinema Blend]
The shiny black leather looks a bit Matrix-esque, but as Ross explained to EW, there's actually a good reason for the material used in the clothing beyond just "it looks cool." "What Cinna was trying to do was create something that came out of District 12, out of a coal mining world, with a fresh, bold look to it," he told the magazine. "So [costume designer Judianna Makovsky] went to this wonderful black reflective material that glistened like coal or graphite and would obviously work well in the Tribute parade where Katniss becomes the Girl on Fire."
As the last part of that sentence suggests, there's more to this costume than we're seeing in the photo — but it looks like Lionsgate is wisely keeping that under wraps until the film actually hits theaters. Also starring Liam Hemsworth, Woody Harrelson, and Elizabeth Banks, The Hunger Games hits theaters March 23.
Synopsis:
Every year in the ruins of what was once North America, the evil Capitol of the nation of Panem forces each of its twelve districts to send a teenage boy and girl to compete in the Hunger Games. A twisted punishment for a past uprising and an ongoing government intimidation tactic, The Hunger Games are a nationally televised event in which "Tributes" must fight with one another until one survivor remains. Pitted against highly-trained Tributes who have prepared for these Games their entire lives, Katniss is forced to rely upon her sharp instincts as well as the mentorship of drunken former victor Haymitch Abernathy. If she's ever to return home to District 12, Katniss must make impossible choices in the arena that weigh survival against humanity and life against love. THE HUNGER GAMES is directed by Gary Ross, and produced by Nina Jacobson's Color Force in tandem with producer Jon Kilik. Suzanne Collins' best-selling novel, the first in a trilogy published by Scholastic that has over 16 million copies in print in the United States alone, has developed a massive global following.