'This Means War' Moved To Valentine's Day Release Date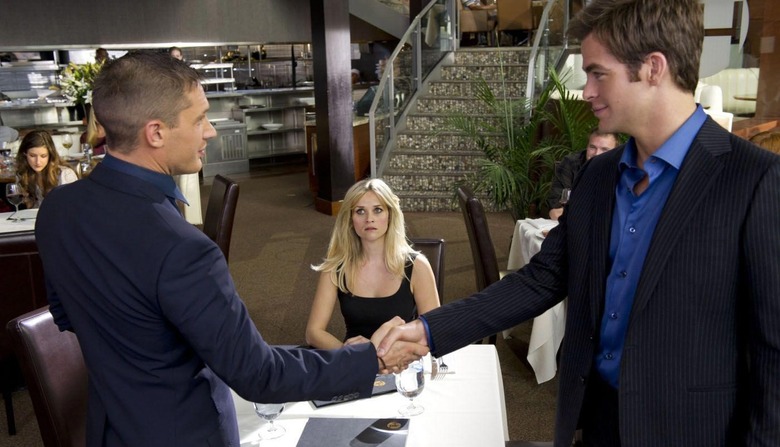 Briefly: Figured out your Valentine's Day plans yet? Well, here's one idea for you. Fox has moved McG's romantic action-comedy This Means War from Friday, February 17 to Tuesday, February 14. The film stars Chris Pine and Tom Hardy as a pair of best friends and CIA partners whose relationship torn apart when they fall for the same woman (Reese Witherspoon). It doesn't strike me as the most romantic premise in the world — actually, it kind of sounds like all three of them are being a**holes — but between Witherspoon's chick flick pedigree and the promise of Captain Kirk and Bane running around with high-tech weapons, I suppose the movie's date night appeal is obvious.This Means War is the only movie currently scheduled to open on the 14th, but it'll be up against the previous weekend's films including The Vow, Safe House, Journey 2: The Mysterious Island, and the 3D rerelease of Star Wars: Episode I – The Phantom Menace. Ghost Rider Spirit of Vengeance and Studio Ghibli's The Secret World of Arrietty will hit theaters three days later, on the 17th.
Relive the magic of the first This Means War trailer after the jump, and let us know which of these films you'll be taking your date to when the holiday rolls around.