Elizabeth Banks Says Disney's Live-Action 'Tink' Will Be Kind Of Like 'Elf'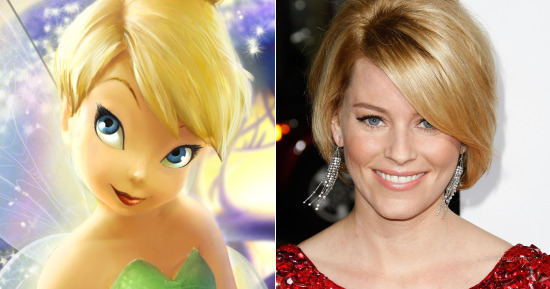 Back in 2010, Elizabeth Banks was cast as the lead role in Tink, Disney's live-action feature centered around Peter Pan's beloved fairy sidekick Tinkerbell. At the time, we knew only that the energetic Banks seemed like perfect casting for the character, but we got a better idea of what to expect from the project when Marti Noxon (Buffy the Vampire Slayer, Fright Night) signed on to pen the rewrite last fall. Noxon likened the film to Disney's Enchanted, and now Banks is comparing Tink to another popular fish-out-of-water tale — Jon Favreau's modern holiday favorite Elf. Read Banks' comments after the jump.
It's a live action Tinkerbell movie sort of in the vein of Elf in which I would play Tinkerbell. Tinkerbell gets thrown out of Never Never Land, and it's about where she goes and who she meets and the adventures she has.... Tinkerbell is one of the greatest characters because she's mischievous and snarky and fun and sexy and jealous and vengeful.
The comparisons to Elf and Enchanted suggest we'll be getting a film that's funny and sweet in equal measure, but both of those movies centered around painfully innocent characters trying to make sense of a cynical universe. Banks' description of Tinkerbell as "snarky" and "vengeful" makes her sound rather edgier than either Buddy or Giselle, no?
In her earlier comments, Noxon praised the project's gender politics:
I'm doing a re-write on Elizabeth Banks as Tinkerbell, kind of in the Enchanted world. It's about her coming to the real world in a non-fairy form. That's about all I can say about it, but part of my attraction to that was what we were talking about earlier [the aforementioned gender politics].
It's hard to write or even find a movie for eight- or nine-year-old girls that isn't about, ya' know, "I need a boyfriend!" I mean, Tinkerbell has a job! She's one of the few characters in that fantasy world that actually has a job. I have a seven-year-old daughter and I want more movies for her where afterward I don't have to make something up like, "You know, the job of running a kingdom is really hard work, and she and the Prince are going to have to communicate a lot..."
Overall, it sounds like Tinkerbell is shaping up to be a welcome example of a strong, complicated female character, and I'm eager to see what Banks and Noxon will make of her. That is, if Tink ever gets off the ground. Banks, who's also producing along with McG and Adam Shankman, was careful to stress to MovieHole that the project was still in its early stages at this point.
"We're in script stage and everybody is really excited and blah, blah, doesn't mean anything," she said. "You might as well not even write it down because who knows, it might not even happen."