Werner Herzog's 'Into The Abyss' Continues As TV Series 'On Death Row'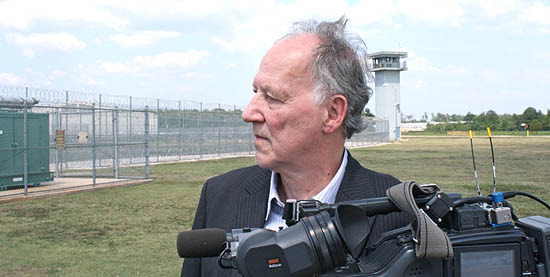 As controversial as the death penalty is, I think the one thing we can all agree on is that it's a huge, complicated topic. Too big, definitely, for just one film, which may be why Werner Herzog is now expanding his upcoming death row documentary Into the Abyss: A Tale of Death, a Tale of Life to a limited television series titled On Death Row, which will air on the cable chanel Investigation Discovery later this year. More details after the jump.
I've yet to see Into the Abyss myself, but from what I've heard it's a remarkably even-handed look at a highly contentious issue — exactly the kind of approach we could use more of in these politically divided times. But the real reason to watch it seems to be that it's quite simply a fascinating film, thanks to Herzog's unique talents as a storyteller, and I'd expect that that aspect would allow it to translate easily to the small screen. Investigation Discovery president/GM Henry Schleiff seems to agree.
"There's a common theme in Werner's work, and that is he's quintessentially a storyteller," Schleiff said. "That could be a story about carving buffalo (images) on a cave, carrying a boat across a mountain, exploring what it is to have a passion for bears, or ultimately traveling into the abyss. It's all about story. What's rare across the board in entertainment, and often is missing, is a great storyteller. No one is a better storyteller than Werner. And what it's about is his absolute simplicity. There's no bells, no car chases, no special effects, just one man talking to another. And that's unbelievably compelling in Werner's hands."
No exact premiere date has been announced at the time, but we'll definitely be keeping an eye out for more details as they're revealed.