'Battleground' Trailer – Hulu's First Original Scripted Series Tackles Swing State Politics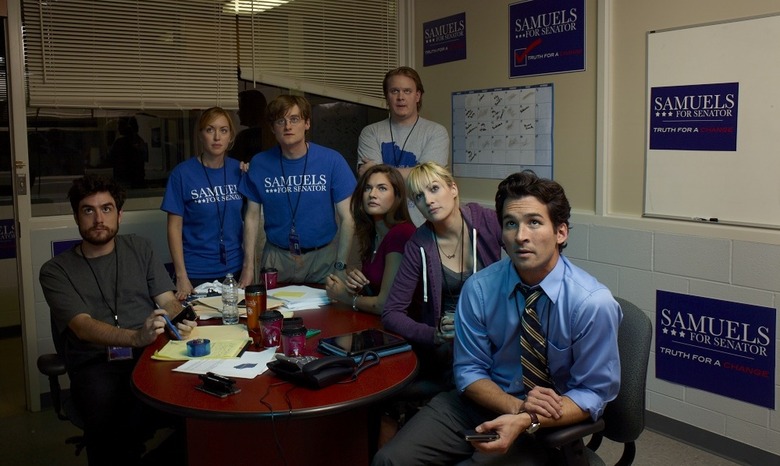 As Netflix makes its first foray into original programming with Lilyhammer, competitor Hulu has entered the fray as well, with workplace mockumentary Battleground. Directed by actor J.D. Walsh (Two and a Half Men) and produced by Marc Webb (The Amazing Spider-Man) and Hagai Shaham (The Details), Battleground centers around a lively group of campaign workers in Wisconsin who labor to get their third-place candidate into the Senate. Watch the trailer after the jump.
[via Mashable]
Though the Ides of March-y premise has potential, especially in a big election year, I'm feeling lukewarm about the actual trailer. It doesn't look bad, but it also doesn't look like anything special — I see a lot of well-worn cliches about the difficulties of balancing work and family. It's hard to gauge a series' quality based on such a short clip, though, so I'll reserve judgment until I actually see the first episode.
All thirteen 22-minute episodes of Battleground will eventually be made available on Hulu's free service, with the first set to premiere February 14, 2012. Though Battleground will be the website's first scripted series, it won't mark Hulu's first time producing an original show. Hulu's past efforts include the reality show If I Can Dream and Morgan Spurlock's documentary series A Day in the Life. In addition, it plans to launch an untitled travelogue by director Richard Linklater at some point this year.
With the streaming market becoming increasingly competitive, companies like Netflix and Hulu have begun looking to create or buy exclusive content. In addition to Lilyhammer, Netflix has one extremely high-profile project coming up — new episodes of Arrested Development, which will debut in 2013.
Synopsis:
By executive producers JD Walsh, Hagai Shaham ("The Details"), and Marc Webb ("The Amazing Spider-Man", "500 Days of Summer"), Battleground is a workplace dramedy set in the world of political campaigns. Head campaign strategist Chris "Tak" Davis and his staff strive to win a Senate seat for their underdog candidate in a race with national consequences. It takes place in Wisconsin, a real battleground state, where Tak and his team manipulate the 24-hour news cycle, new media, and social networking to navigate the unpredictable ups and downs of state politics. All the while, a documentary crew exposes the behind-the-scenes chaos of idealistic twenty-somethings trying to make a difference.