'The Innkeepers' Director Ti West Says Sci-Fi Film 'The Side Effects' Is Financed And Partially Cast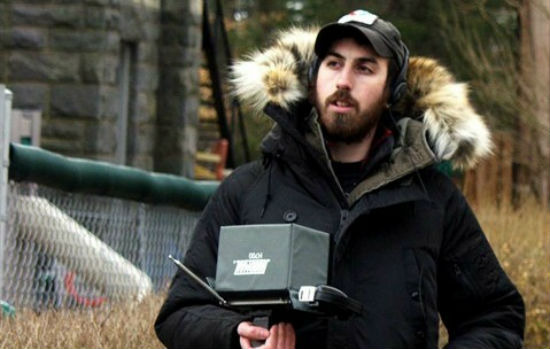 Indie horror director Ti West tends to be divisive. I think that's in part because he has a flair for self-promotion and also because his most well-known film, The House of the Devil, was a very slow burn of a horror/thriller that featured an '80s aesthetic, which led to accusations of pretension and a certain preciousness.
But The House of the Devil worked really well for me, so West has become one of the young directors I follow with greater than average interest. His new film The Innkeepers is available via VOD and digital platforms now, and will hit theaters in a limited run on February 3.
Ti West is also planning to make a science fiction film, which he's said is about "pharmaceutical testing in space and paranoia," and at one point had the title The Side Effects. That title could change, given that Steven Soderbergh is about to make another film with the same title. But West is moving full-speed ahead with the project, and says that financing and casting are coming together now.
In a new interview with The Playlist, West sounds like a guy who has already learned difficult lessons from making films in the indie landscape, but is unbowed by the difficulties inherent in putting together a film without a studio.
I have this science-fiction movie that I've been raising the money for, for the past six months... I've now cast the lead, and I've got most of it together. But it's a science fiction movie, so we need to build spaceships, so it's one of those things I can't really rush into and I can't do it for less than we need for it, because we have to build things. But I would hope that right after Sundance, that kicks into gear, and I would love to be prepping that in February.
Despite the mention of spaceships, it sounds like we should expect something on the scale of Moon rather than, say, Prometheus. West tells The Playlist that the film is more expensive than some of his horror efforts, but will cost less than Cabin Fever 2.
Speaking of, West also talks about his efforts making Cabin Fever 2, which he disowned after Lionsgate took the film away from him,
I tried with 'Cabin Fever 2' to make a really crazy cult sequel, and I believe I could have done it had I not been derailed. I still believe it; if Lionsgate came to me and said, 'We've got this much of a budget to do a director's cut and re-score it,' I'd do it tomorrow.
He also addresses what seems to be A Haunting in Georgia, which West was going to direct before fearing that it would end up like Cabin Fever 2:
I wanted to make that movie. It was a bigger movie, it wasn't the greatest movie ever, but I thought I could make a good enough movie out of it and experiment in this big-budget world and get what it affords me, whether it's financial stuff, effects, whether it's crane shots, celebrities. There was a lot of appeal to doing that stuff.
Finally, the director is responsible for a segment in the anthology film V/H/S, and describes it like so,
It premieres next Sunday at Sundance. It's a found footage anthology film. I did one segment starring Joe Swanberg, Sophia Takal and Kate Sheil. My segment is a home video of a couple on a road trip – and that is all I can say for now.
If you want a bit more on V/H/S, check the Bloody Disgusting interview with Simon Barrett, who wrote two of the film's sequences. (He also wrote the TIFF and Fantastic Fest fave You're Next.) Barrett says, in part,
V/H/S is a found footage horror movie made by people who are every bit as sick of found footage as the average viewer is. I think everyone involved hates found footage and thinks it's completely played out. And because everyone was sick of it we were all forced to come up with something unique.