'Prometheus' Photo Shows Noomi Rapace, Space Jockeys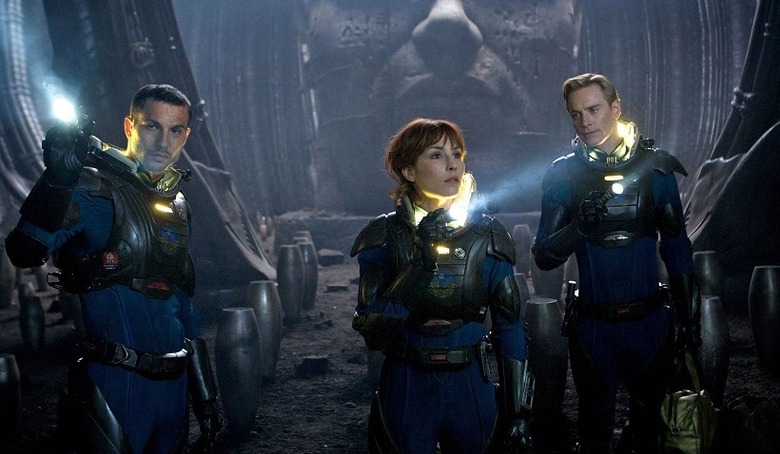 Director Ridley Scott, writers Damon Lindelof and Jon Spaihts, and the rest of the cast and crew have been careful to keep Prometheus plot details under very tight wraps, so that with just a few months to go until its release, there's still a big fat question mark over a lot of the film. One thing we do know, however, is that the space jockey from Alien will somehow be involved — and now we have visual confirmation in the form of a still from the movie. Check it out after the jump.
See that? In the background of the photo, to the left of Noomi Rapace, two space jockeys, or more likely space jockey suits, are visible. We'll have to wait til summer to find out exactly how they figure into the film, but this is a tantalizing glimpse at what's to come. Head over to Badass Digest for a lightened version that makes the figures a bit easier to see.
Scott's spoken in the past about the space jockey and what Prometheus might explore with regard to its back story:
I was always amazed that no one asked who the hell the Space Jockey was. He wasn't even called the Space Jockey. During the film they started to call it the Space Jockey. I don't know who started that one off. I always thought it was amazing that no one ever asked who he was, and why was he there? What was all that about? I sat thinking about this for a while and thought, well, there's a story! And the other four [films] missed it! So, here it is.
And this one does actually raise all kinds of other questions, because if someone could, a being, could be as monstrously clever to create something like we experienced in the very first one – I always figured it's a weapon, and I always figured that [the ship in the first Alien] was a carrier of weapons. Therefore, who is that, inside that suit? That wasn't a skeleton, that was a suit. And if you open up the suit, what do you get inside it? And why were they going, where were they going?
Also starring Michael Fassbender, Charlize Theron, and Idris Elba, Prometheus centers around a team of explorers who travel to the outer corners of the universe to uncover the truth about mankind's past, and must fight to save its future. The film opens June 8.