Sequel Bits: Jessica Chastain, Bryan Cranston, And Martin Short Sign On For 'Madagascar 3', Plus: 'Tintin 2', 'Puss In Boots 2', 'Grown Ups 2'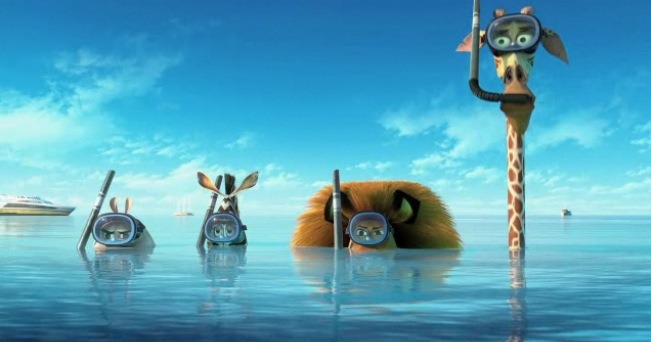 Technically, I guess the PG-13 Grown Ups doesn't really qualify as a kids' film, so its sequel probably won't either. But since that movie centered around five grown men acting like children, I'll say that that this Sequel Bits is all about the young'uns. After the jump:
Jessica Chastain and Bryan Cranston somehow cram Madagascar 3 into their very, very busy schedules
Steven Spielberg talks The Adventures of Tintin 2 and 3
To the surprise of no one, Antonio Banderas would like to do a Puss in Boots 2
Adam Sandler's Grown Ups 2 gets a summer 2013 release date
Entertainment Weekly reports that Jessica Chastain and Bryan Cranston, who could probably compete for the title of "most ubiquitous star" at the moment, have signed on for the animated picture along with Martin Short. The newcomers will be voicing a trio of circus animals. Co-director Eric Darnell describes Cranston's character, a Russian-accented Siberian tiger named Vitaly, as "this very conservative tough guy who doesn't like any change or any outsiders coming into his world," while Short's Stefano the sea lion will be "this hilarious comic character — he's always bubbling with excitement and enthusiasm and is up for anything." Meanwhile, Chastain will voice Gia the jaguar, who's "a little more thoughtful, and she's beautiful" and serves as "a moral compass for the circus." Chastain and Short trained with a voice coach to gain convincing Italian accents. Check out the image below: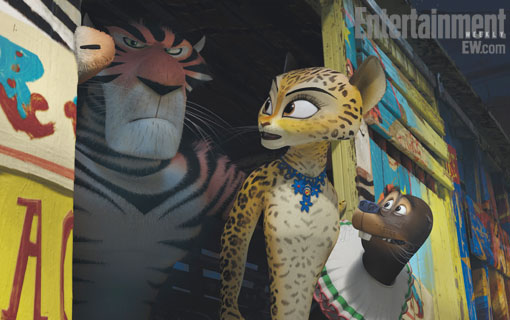 Madagascar 3: Europe's Most Wanted opens June 8. [Entertainment Weekly]
Now that the strong worldwide box office performance of Steven Spielberg's The Adventures of Tintin has ensured the continuation of the film series, the question has become what we'll be seeing in the next installments. As fans of Hergé's original Tintin comics know, the first film was based on three books: The Crab with the Golden Claws, The Secret of the Unicorn, and Red Rackham's Treasure. Which stories the Peter Jackson-directed sequel will be pulling from remains to be seen, though Spielberg recently let slip that it would be based on "two and a half" books.
I'm not going to say which stories have been chosen for Peter Jackson's sequel because Peter and I agreed that we weren't going to let that information out yet. The script is now being written. It's more than one book, but it's not three books, so that means it's two books. It's two and a half books that we're combining with The Secret of the Unicorn. And Peter will start working on the film this year. When he's done shooting The Hobbit, he'll begin his performance capture work with the actors later in 2012, which I'm very excited about. And of course, I'm hoping I'll be able to direct the third one. I'd love to do the third one because I had so much fun on the first one.
Last month, producer Kathleen Kennedy told The Playlist that Prisoners of the Sun would not be the basis of the second (or even third) film, but that The Calculus Affair just might. "We haven't decided yet but that's the direction we're headed," she said. Kennedy has also previously stated that Jackson's film could hit as soon as Christmas 2014 or summer 2015. [Collider]
As the very successful spinoff of an extremely popular franchise, Puss in Boots seems all but certain to get a sequel at some point. However, according to star Antonio Banderas, plans aren't in the works quite yet. "I don't know what is going to happen but I hope we have a continuation of the character," the actor told Collider.
And if it does, Banderas fully expects to be on board. "I would love to, obviously. This is a character that I've [been playing] for ten years. I think we can still squeeze him a little bit more," he said. Considering that the first Puss in Boots racked in $478 million worldwide on a $130 million production budget, it strikes me as extremely likely that DreamWorks will agree with assessment. [Collider]
Last month, we reported on the possibility of a Grown Ups 2, a follow-up to Happy Madison's depressingly successful 2010 comedy. Now that sequel takes one step closer to reality as it sets a release date of July 12, 2013. Grown Ups 2 is the only film slated for that date at this time, though Despicable Me 2 and Spielberg's Robopocalypse are scheduled to open the week previous.
Grown Ups writer Fred Wolf is said to be in talks to return for the sequel. Sandler is not officially signed on, and will reportedly make his decision based on the script; if he decides to take on the new film, it'll be his first-ever sequel. There's been no confirmation yet on whether Sandler's co-stars — including Kevin James, Chris Rock, Rob Schneider, and David Spade — will return as well. The first Grown Ups pulled in some $271 million globally, making it Sandler's highest-grossing film worldwide. [Coming Soon]