2012 Golden Globes Awards Live Blog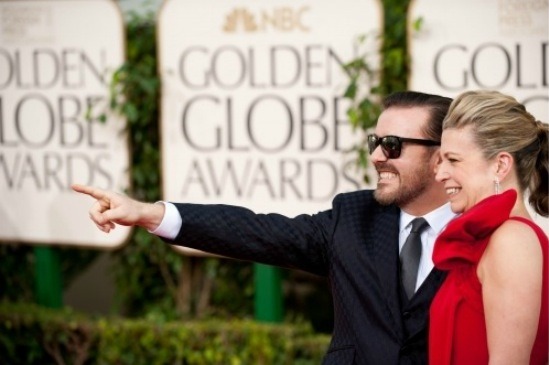 The 69th Annual Golden Globe Awards take place Sunday night and though all the pre-show hype has been about what controversial host Ricky Gervais will say when he takes the stage, there are some important awards to discuss too. Though the validity of the Globes are regularly questioned, it's extremely influential simply because it's live on television and everyone is watching. For films like The Artist, Midnight in Paris and The Help, a win at the Globes could mean a direct route to the Oscars.
In case you aren't watching, we've got you covered. I'll be updating this post with all the winners as they happen. Plus, I'll keep you informed of which celebrities take a thrashing courtesy of Gervais, who, if anyone, gets extremely drunk and all of the other potential craziness that occurs when Hollywood's elite sit in a ballroom with free, unlimited booze and live television cameras.
Click below, to see all the nominees along with up-to-the-minute results and commentary.
BEST PICTURE: DRAMAThe Descendants
The Help
Hugo
The Ides of March
Moneyball
War Horse
Thoughts: No big surprise here. The Descendants has some solid award-season momentum built up, despite the fact that the Globes were pretty much dispersed among a bunch of other films. And that brings the end to a fairly tame, unsurprising evening.
7:53 p.m. – One more award. Thank God.
BEST ACTOR: DRAMAGeorge Clooney, The Descendants
Leonardo DiCaprio, J. Edgar
Michael Fassbender, Shame
Ryan Gosling, The Ides of March
Brad Pitt, Moneyball
Thoughts: My favorite movie of the year, you'll get no complaints here. It'll be close between he and Dujardin come Oscar time. Plus you've just gotta love Clooney who dates Stacy Keibler and makes Fassbender dick jokes on stage.
7:48 p.m. – Our first Fassbender sighting.
BEST PICTURE: COMEDY OR MUSICAL50/50The Artist
Bridesmaids
Midnight in Paris
My Week With Marilyn
Thoughts: With two previous wins tonight, there really wasn't much of a chance for any of these other films. The Artist is the film to beat this year. And they brought the dog on stage!
7:37 p.m. – Streep nearly steals the evening by forgetting her glasses and being forced to go off the cuff. She lists a bunch of non-nominated great female 2011 performances. Jane Eyre, Pariah, etc. She then fights off the "Wrap it up" music. Finally, a fun, natural moment.
BEST ACTRESS: DRAMA
Glenn Close, Albert Nobbs
Viola Davis, The Help
Rooney Mara, The Girl With The Dragon Tattoo
Meryl Streep, The Iron Lady
Tilda Swinton, We Need To Talk About Kevin
Thoughts: Wow. Wow. I was sure Davis would take this but Streep wins for a film that everyone says is lackluster save for her performance. Never underestimate the Hollywood Foreign Press' love of celebrity.
7:34 p.m. – He then shut me up slightly by calling Colin Firth racist. Hilarious.
7:32 p.m. – There's only a half hour left and I have to say, I'm super disappointed in Gervais tonight. He's been an almost non-entity and when he is there, he's funny, but not stellar. He said he would take the gloves off but he's definitely been neutered slightly.
BEST ACTOR: COMEDY/MUSICALJean Dujardin, The Artist
Brendan Gleeson, The Guard
Joseph Gordon-Levitt, 50/50
Ryan Gosling, Crazy, Stupid, Love
Owen Wilson, Midnight In Paris
Thoughts: I love The Artist and the primary reason is Dujardin's performance which is pure magic. I'm curious if this means he has the inside track on the Oscar or if the field is just watered down here at the Globes with 10 nominees. Love his nod to the character at the end of his speech too.
Best Comedy TV Series
"Enlightened"
"Episodes"
"Glee"
"Modern Family"
"New Girl"
Thoughts: It's pretty obvious this was the favorite here but I'm surprised the Foreign Press went with the older show.
7:15 p.m. – Gervais just got edited but the director must have known it was coming. It was too easy. Oh well, moving on.
BEST DIRECTOR
Woody Allen, Midnight in Paris
George Clooney, The Ides of March
Michel Hazanavicius, The Artist
Alexander Payne, The Descendants
Martin Scorsese, Hugo
Thoughts: Wow. A bit of an surprise, you'd have to say. This certainly bodes well for Hugo's Oscar chances.
7:03 p.m. – Leonardo DiCaprio just got caught not clapping for Freeman. Burn.
7:01 p.m. – Who just searched for Street Smart on Netflix? That looked amazing. But seriously, Freeman has had quite the incredible career and it's not close to over.
6:59 p.m. – Helen Mirren picks up the scraps and bombs horribly with her Freeman jokes. Now a montage.
6:55 p.m. – Standing ovation for presenter Sidney Poitier presenting the Cecil B. DeMille Award to Morgan Freeman.
BEST SUPPORTING ACTRESS
Bérénice Bejo, The Artist
Jessica Chastain, The Help
Janet McTeer, Albert Nobbs
Octavia Spencer, The Help
Shailene Woodley, The Descendants
Thoughts: I have a feeling this was a very, very tight category but, really, who had a more memorable female performance than Spencer this year? This award even made Melissa McCarthy cry. So sweet.
Best Actor, TV Comedy Series
Alec Baldwin, "30 Rock"
David Duchovny "Californiacation"
Johnny Galecki "Big Bang Theory"
Thomas Jane "Hung"
Matt LeBlanc "Episodes"
Thoughts: I'm sure all the Friends fans out there are very excited.
Best Actress, TV Drama SeriesClaire Danes "Homeland"
Mireille Enos "The Killing"
Julianna Margulies "The Good Wife"
Madeleine Stowe, "Revenge"
Callie Thorne, "Necessary Roughness"
Thoughts: After Homeland's earlier win, this was an easy pick. I really have to see this show.
6:34 p.m. – Hey NBC, I think Katharine McPhee is incredibly hot but you don't need to show her so much. I know she has a new show and all that but come on. Oh, look, Dustin Hoffman.
BEST FOREIGN LANGUAGE FILMThe Flowers of War
In the Land of Blood and Honey
The Kid With a Bike
A Separation
The Skin I Live In
Thoughts: Wow, frankly very surprised at this one. I thought for sure the Jolie film would win just because it's Jolie but I've heard nothing but amazing things about A Separation. Nice job, Foreign Press.
6:31 p.m. – Madonna takes a jab back at Gervais. Not bad, not bad. By the way, I'm usually not a fan, but she looks really beautiful.
Best Supporting Actress in a Series, Mini-series or TV Movie:Jessica Lange, "American Horror Story"
Kelly Macdonald "Boardwalk Empire"
Maggie Smith, "Downtown Abby"
Sofia Vergara, "Modern Family"
Evan Rachel Wood, "Mildred Pierce"
Thoughts: I love American Horror Story and Lange's evil/sexy performance is the best part of it. Very happy about this one.
BEST SCREENPLAY
Michel Hazanavicius, The Artist
Alexander Payne, Nat Faxon and Jim Rash, The Descendants
George Clooney, Grant Heslov and Beau Willimon, The Ides of March
Woody Allen, Midnight in Paris
Aaron Sorkin and Steven Zaillian, Moneyball
Thoughts: Bravo Woody Allen. You don't even have to be there because you are just the man. A great movie and a great script.
BEST ANIMATED FEATUREThe Adventures of Tintin
Arthur Christmas
Cars 2
Puss in Boots
Rango
Thoughts: 2011 was a pretty lackluster year for animation so a movie like The Adventures of Tintin, which is just okay, takes the prize. It doesn't hurt that Tintin is so beloved across the world.
6:11 p.m. – George Clooney comes out with a cane mocking his pal Brad Pitt. Funny.
Best Supporting Actor in a Series, Mini-Series or Motion Picture Made for TelevisionPeter Dinklage, "Game of Thrones"
Paul Giamatti, "Too Big to Fail"
Guy Pearce, "Mildred Piece"
Tim Robbins, "Cineme Verite"
Eric Stonestreet, "Modern Family"
Thoughts: A powerhouse category of incredible actors but, in the end, they go with Dinklage for his awesome work on Thrones.
BEST ACTRESS: COMEDY/MUSICAL
Jodie Foster, Carnage
Charlize Theron, Young Adult
Kristin Wiig, Bridesmaids
Michelle Williams, My Week With Marilyn
Kate Winslet, Carnage
Thoughts: Totally worthwhile but her inclusion in this category is almost unfair to the other nominees. The film has singing in it, laughs even, but it's not really a musical or comedy.
6:01 p.m. – Seth Rogen's boner joke about Kate Beckinsale is the new most awkward moment of the evening.
Best Actor in a Mini-Series or a Motion Picture Made for Television
Hugh Bonneville, "Downton Abbey"
Idris Elba, "Luther"
William Hurt, "Too Big to Fail"
Bill Nighy, "Page Eight"
Dominic West, "The Hour"
Thoughts: STRINGER!!!!!!!!!! YES!!!!!!! And he hugged McNulty, also nominated. I love when Wire actors get awards. I really need to watch Luther.
5:52 p.m. – The Golden Globes are reportedly seen in 199 countries. They couldn't show it in just one more? Side note, this has been torture so far.
BEST ORIGINAL SONG
"Lay Your Head Down," Albert Nobbs
"Hello Hello," Gnomeo and Juliet
"The Living Proof," The Help
"The Keeper," Machine Gun Preacher
"Masterpiece," W.E.
Thoughts: I'm boycotting any thoughts on this category because, without competing against The Muppets, I don't see it as a worthy race. (That said, of COURSE Madonna wins)
BEST ORIGINAL SCORELudovic Bource, The Artist
Trent Reznor and Atticus Ross, The Girl With the Dragon Tattoo
Howard Shore, Hugo
John Williams, War Horse
Abel Korzeniowski, W.E.
Thoughts: The Artist's score is almost too easy a pick. It's so incredibly important to the silent movie, if it hadn't been so good, the movie would not have worked. Very well-deserved.
Best Drama TV Series
"American Horror Story"
"Boardwalk Empire"
"Boss"
"Game of Thrones"
"Homeland"
Thoughts: A huge win for what most people agree is this season's best new drama. When it comes to TV the Foreign Press likes the new, hot thing and Homeland is certainly that. If Game of Thrones had aired more recently, it probably wins here, but the second season is about to start.
Best Actor, TV Drama Series
Steve Buscemi, "Boardwalk Empire"
Bryan Cranston, "Breaking Bad"
Kelsey Grammer, "Boss"
Jeremy Irons, "The Borgias"
Damian Lewis, "Homeland"
Thoughts: A fairly big surprise as Grammer beats out some heavyweight shows.
5:34 p.m. – Right on cue, he's back with a few jabs.
5:33 p.m. – Gervais has been gone for a half hour. That's too long.
Best Actress in a Mini-Series or a Motion Picture Made for Television
Romola Garai, "The Hour"
Diane Lane, "Cinema Verite"
Elizabeth McGovern, "Downton Abbey"
Emily Watson, "Appropriate Adult"
Kate Winslet, "Mildred Pierce"
Thoughts: Wait? Kate Winslet wins an acting award? Scandal! And by "scandal" I mean "snooze." She's great but it's an obvious choice.
Best Television Series – Miniseries/Movie
"Cinema Verite"
"Downton Abbey"
"The Hour"
"Mildred Pierce"
"Too Big to Fail"
Thoughts: Is it just me or did Downton Abbey come out of nowhere in the last few weeks? I'd never heard of it and now that's all I hear about. Gotta check it out.
5:20 p.m. – The teleprompter breaks on Rob Lowe and Julianne Moore. Let's see if anything else can top that awkwardness.
Best Actress, TV Comedy SeriesLaura Dern, "Enlightened"
Tina Fey "30 Rock"
Laura Linney "The C Word"
Amy Poehler "Parks and Recreation"
Zooey Deschanel "New Girl"
Thoughts: I haven't watched the show but have heard amazing things. The Foreign Press loves HBO so it's not that big a surprise.
BEST SUPPORTING ACTOR
Kenneth Branagh, My Week With Marilyn
Albert Brooks, Drive
Jonah Hill, Moneyball
Viggo Mortensen, A Dangerous Method
Christopher Plummer, Beginners
Thoughts: This is how things have been going at most award shows. Well-deserved and he's all but a lock for the Oscar at this point.
5:08 p.m. – Johnny Depp comes out to introduce Hugo. Gervais asks him if he's seen The Tourist yet. "No," says Depp.
5:07 p.m. – Gervais was funny, but didn't insult anyone in the room. Very, very tame.
4:58 p.m. – We're about to get going. I'll bump up the categories as they are announced and throw in any relevant thoughts if I have any. Which I might not. I'm still too ecstatic over my Giants beating the Packers.