Lionsgate Buys Summit; Studio Head Suggests 'Twilight' Could Continue After 'Breaking Dawn Part 2'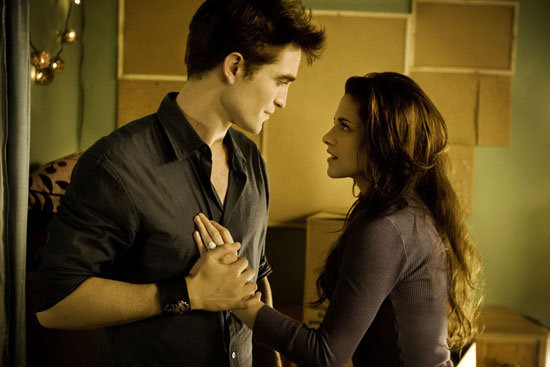 Here's a story in two parts. The first part is that, after a very long series of negotiations that goes back to 2008, a deal was finalized today in which Lionsgate will purchase Summit Entertainment for $412.5m in cash and stock. Part of the impetus for the sale is the ending Twilight film series, which concludes this fall with the release of Breaking Dawn Part 2. Or does that planned conclusion really have to be the end of Twilight?
While Summit investors wanted to get this deal done before Twilight ended and Summit's overall value fell, it seems like some at Lionsgate don't feel like Twilight has to be done. Today Lionsgate CEO Jon Feltheimer said he hopes to continue Twilight in some form, either in film or television.
The Twilight Saga: Breaking Dawn Part 2 opens on November 16, and should be a huge release for Summit, and now Lionsgate. But Lionsgate, which has already pushed the Saw series to more installments than can be counted on one hand, may try to further exploit Twilight.
Speaking to the LA Times, Feltheimer said, "I'm anticipating 'Breaking Dawn Part 2' being $700 million-plus in worldwide box office."
He was asked about "whether the franchise would continue in some form," to which Feltheimer answered,
It's hard for me to imagine a movie that does $700 million-plus doesn't have ongoing value. It's an amazing franchise that they have done a great job of maintaining with absolutely no deterioration. So the simple answer is 'Boy I hope so.'
The most obvious continuation option is a total reboot, beginning the series from scratch and possibly extending it through more films. That probably isn't something that would happen within the next couple years, but if we're already seeing a Spider-Man reboot released a mere ten years after Sam Raimi's first film, why not re-do Twilight after a few years if the financial potential is there?
There are suggestions that Twilight could move to TV, where it could become something like the Star Trek for sparkly vampire fans, but when asked specifically about that option, the exec said only "I would certainly hope so." Why do I predict that the overwhelming balance of our readers will counter that with "I certainly hope not"?
Here's the full press release about Lionsgate's purchase of Summit:
Lionsgate and Summit Entertainment today announced that Lionsgate has completed a transaction to acquire Summit for a combination of cash and stock valued at $412.5 million.The transaction unites two leading studios with powerful brands and complementary assets, solidifying Lionsgate's position as the world's largest and most diversified independent entertainment company. By acquiring Summit, Lionsgate enhances its feature film and home entertainment offerings and further broadens its 13,000 title filmed entertainment library to include such titles as The Twilight Saga, The Hurt Locker and Red. The integration of both Summit's domestic and international theatrical film operations will significantly enhance Lionsgate's production and distribution capacity, while also extending the Company's worldwide reach and creating a dominant international sales organization.The transaction brings together Summit's Twilight Saga feature film franchise, which has already grossed more than $2.5 billion at the worldwide box office, and Lionsgate's highly anticipated Hunger Games franchise, which opens on March 23, 2012. Lionsgate will also continue to benefit from its premier television production and distribution business, its array of branded film and television properties, its suite of branded channels and its success as an innovator in creating and distributing content for digital platforms. Both the Lionsgate and Summit labels are expected to continue and be active in the production and distribution of films, although the combined company expects to realize significant synergies through the consolidation of administrative and other costs."This transaction continues Lionsgate's long-term growth strategy of building a diversified worldwide media company through a combination of disciplined, accretive strategic acquisitions and organic growth while maintaining a solid balance sheet," said Lionsgate Co-Chairman and Chief Executive Officer Jon Feltheimer and Vice Chairman Michael Burns. "We are uniting two powerful entertainment brands, bringing together two world-class feature film franchises to establish a commanding position in the young adult market, strengthening our global distribution infrastructure and creating a scalable platform that will result in significant and accretive financial benefits to Lionsgate shareholders. Rob Friedman and Patrick Wachsberger have built a remarkable organization, and we're pleased to welcome Summit's talented team to the Lionsgate family. Lionsgate's growth has been built over the years in part by the successful acquisition and integration of companies like Trimark, Artisan, Redbus, Debmar-Mercury, Mandate and TV Guide Network and, in each case, Lionsgate has emerged stronger and the Company's brand has become more resonant."
"Jon Feltheimer, Michael Burns and the rest of the Lionsgate team have built an exciting and entrepreneurial content leader over the past 12 years, and we're delighted to join together these two great companies," said Summit Entertainment's Co-Chairmen Rob Friedman and Patrick Wachsberger. "We believe that the combined entity will be even greater than the sum of its parts and our dramatically enlarged media platform will create tremendous opportunities for all of us within the Summit and Lionsgate families. We want to thank our employees, whose hard work and creativity have led to the successful evolution of Summit into a leading worldwide studio, and the combination of Lionsgate and Summit will be the next chapter in creating a true global media powerhouse."
"As demonstrated by this acquisition, Lionsgate remains focused on preserving a strong balance sheet while pursuing its long-term growth strategy," said Dr. Mark H. Rachesky, Co-Chairman of the Lionsgate Board of Directors. "We are big believers in the increasing value of content and this transaction strengthens Lionsgate's asset base while providing significant financial benefits, including highly visible cash flow and revenue. We are looking forward to realizing the value of a Lionsgate-Summit combination for all Lionsgate shareholders."
The majority of the purchase price was funded with cash on the balance sheet at Summit. The remainder was funded with $55 million of existing Lionsgate cash, $45 million of cash received from a newly issued series of Lionsgate convertible notes, $50 million of Lionsgate common stock and an additional $20 million of cash or stock to be issued at Lionsgate's option within 60 days. At closing, Summit's existing term loan was refinanced with a $500 million debt facility, secured by the collateral of the Summit assets. Although the term loan matures in 2016, the Company anticipates repaying the loan well before the maturity date, due to the significant cash flow the business is expected to generate. In addition, this expected cash flow will facilitate the Company's financial objective of further deleveraging Lionsgate's balance sheet. The transaction is expected to be significantly accretive in Lionsgate's 2013 fiscal year beginning April 1, 2012.