'Detachment' Trailer And Poster: Adrien Brody And Tony Kaye Go To School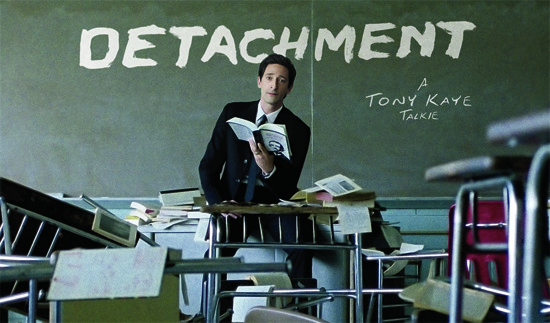 Tony Kaye got a reputation for being hard-headed during the production of American History X, and though he released the incendiary abortion documentary Lake of Fire in 2006, the years since American History X haven't been easy for the director when it comes to narrative films. His movie Black Water Transit has been on the shelf for years now, and Kaye seemed like he might be a permanent resident of director jail.
But his new film Detachment is finally getting a release. The film stars Adrien Brody as a substitute teacher who may have more problems than his studens do. The supporting cast is big: Marcia Gay Harden, Christina Hendricks, William Petersen, Bryan Cranston, Tim Blake Nelson, Lucy Liu, Blythe Danner, and James Caan, and Brody's work seems like it might even be as good as the bold pullquotes that decorate the new trailer would suggest. Check out the trailer below and see for yourself.
The urban school setting is certainly a cliche, but I wonder if Detachment might be able to rise above that. I want to see what Kaye has done with this cast, and the trailer has me intrigued enough to grab the film digitally when it hits in advance of a limited theatrical run.
Detachment is available on VOD and digital platforms February 24 and hits theaters March 16.
Director Tony Kaye's (AMERICAN HISTORY X) long-awaited film DETACHMENT stars Academy Award® winner Adrien Brody as Henry Barthes, a substitute teacher who conveniently avoids any emotional connections by never staying anywhere long enough to form a bond with either his students or colleagues. A lost soul grappling with a troubled past, Henry finds himself at a public school where an apathetic student body has created a frustrated, burned-out administration. Inadvertently becoming a role model to his students, while also bonding with a runaway teen who is just as lost as he is, Henry finds that he's not alone in a life and death struggle to find beauty in a seemingly vicious and loveless world.