Sequel Bits: Jim Henson's 'Labyrinth' To Get Graphic Novel Prequel, Plus: 'Bridesmaids 2', 'Star Trek 2'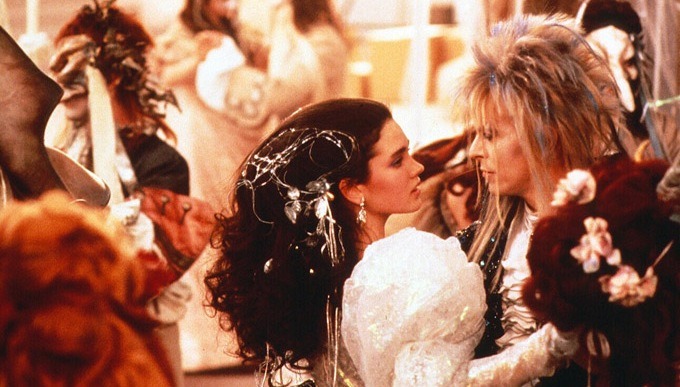 There's nothing earth-shattering in this edition of Sequel Bits, but hey, that's why they're Bits and not separate stories. At least it seems like mostly good news. After the jump:
Jim Henson's Labyrinth is getting a prequel — but not in movie form
Now Bridesmaids star Wendi McLendon-Covey says Wiig isn't entirely out of the sequel after all
Alice Eve talks about working with Benedict Cumberbatch and not disappointing Star Trek fans
We can say it's a prequel. It's the story of how Jareth is brought into the Labyrinth for the first time. So, it doesn't deal with Sarah, it doesn't deal with Toby or anything like that.
It's a very tragic story that is the opposite of Sarah's, which has triumph at the end. It's a prequel, so we know what happens in the movie. We know how it's going to end: Jareth is going to be the Goblin King ... so we're showing how he's pulled into the Labyrinth for the first time. It's going to be cool. We're switching up the dynamic of it, but what we're doing is completely true to the spirit of the original.
One element of the film that doesn't seem like it'd translate easily to the page is its music, which plays a crucial role in the film and its attraction for fans, but Christy says he has some ideas. "I don't know if this will work out, but I want to do songs where they're songs being sung (by characters) and we show the notes on the page, so you can actually play along," he told Entertainment Weekly.
As for whether Bowie will be involved, Christy revealed, "We're talking. The budget to get Bowie to do one song would be the budget of all the books, but we're talking to him to at least get his blessing or maybe an introduction or something." Bowie also has likeness approval, meaning the book would need his permission to draw young Jareth to look like a young Bowie.
Archaia's Labyrinth book will hit sometime toward the end of 2012. [Nerd Bastards]
Another day, another minor Bridesmaids 2 update. Last week, we heard that Universal could be moving forward on the movie without co-producer / co-writer / star Kristen Wiig; a few days ago Melissa McCarthy made it crystal clear that she wanted no part of a Wiig-free sequel. Now Wendi McLendon-Covey has jumped into the conversation, insisting that Wiig hasn't ruled it out completely. She's just not interested in doing it right now.
"[Wiig] never said that she didn't want to do it," McLendon-Covey told E! "All she said was that she's not working on it right this minute because someone gave her the opportunity to write and direct her own film so, duh, she's going to do that first. So no. I think all she's waiting for is for her and Annie [Mumolo] to come up with an idea that's equally as good... It just won't happen in the next six months."
As for where the next film might take the ladies, McLendon-Covey had a few thoughts. "There's always divorce parties," she said. "There's always baby showers. There's all kinds of hideous things like that that women do." [Cinema Blend]
In typical fashion, director J.J. Abrams has been keeping details of Star Trek 2 under tight wraps. So while we were happy to see that Alice Eve had been cast in a major role, we don't actually know a whole lot about what she'll be doing. What we do know, however, is that she's hopeful she won't let any fans down.
"Obviously, there is a huge legacy there with Star Trek and the fanatics, so hopefully they'll be satisfied," she recently told MTV. But it's not all anxiety — the actress also spoke about her excitement at being part of the movie. "I feel incredibly lucky. I would say it's a once-in-a-lifetime opportunity. It's not once-in-a-lifetime, but it is rare."
For you Brit TV fans, Eve also gushed about her previous experience working with Sherlock and Star Trek 2 star Benedict Cumberbatch on Tom Vaughan's Starter for 10. "I'm very excited to work with him again. He's so very funny, Ben," she said. "I don't know if you remember his character in Starter for 10, but he was so funny. Like King of the Geeks, but he did it so well, and I found a lot of that hard to get through because he was so funny. I like him very much." [Comic Book Movie]