'Oz The Great And Powerful' To Mirror 'Wizard Of Oz's' Black And White Opening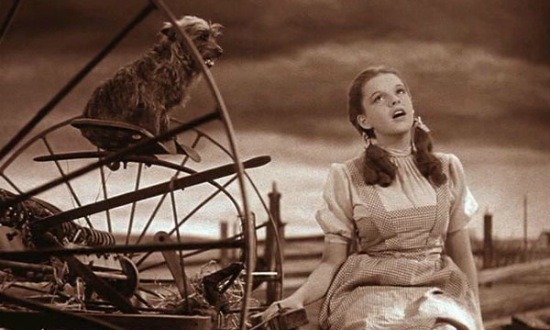 One would imagine Sam Raimi is planning on being incredibly respectful to the original Wizard of Oz with his 2013 3D prequel, Oz The Great and Powerful. There's just no way the filmmaker would even think to tackle such a mythos unless he could pay homage to the classic film in new and interesting ways. One of those ways has just been revealed thanks to one of the film's young stars. Joey King, who also stars in The Dark Knight Rises, revealed in an interview that the film begins, and presumably ends, in black and white just like the original. Read her quote and more after the jump.
King revealed this in an interview with TeenSpot.com (via Comic Book Movie). Here's that quote from the interview:
We're doing the same thing as the first Wizard of Oz, we're making it black and white in the beginning and then (it gets) colorful when we enter the Land of Oz. It's also going to be a 3D movie; I'm so excited about that. It's going to add a whole new level to the awesomeness of Oz.
In the same interview, she also talked a bit about her character in the film:
I play Wheelchair Girl and China Girl. Wheelchair Girl is in Kansas and China Girl is my main character, she's in most of the movie. She's really fun – she's sassy. She lost her family when the Wicked Witches came in. Now, Oz sort of becomes her adopted father.
Raimi has been in production on the film for almost six months and we still have over year or so until its March 8, 2013 release date. In that time, we'll surely hear about more nods to the original film, especially when we get our first glimpse of the trailer.
Here's the official plot description of the film if you feel in the dark:
Oz The Great and Powerful imagines the origins of L. Frank Baum's beloved character, the Wizard of Oz. When Oscar Diggs (James Franco), a small-time circus magician with dubious ethics, is hurled away from dusty Kansas to the vibrant Land of Oz, he thinks he's hit the jackpot—fame and fortune are his for the taking—that is until he meets three witches, Theodora (Mila Kunis), Evanora (Rachel Weisz) and Glinda (Michelle Williams), who are not convinced he is the great wizard everyone's been expecting. Reluctantly drawn into the epic problems facing the Land of Oz and its inhabitants, Oscar must find out who is good and who is evil before it is too late. Putting his magical arts to use through illusion, ingenuity—and even a bit of wizardry—Oscar transforms himself not only into the great and powerful Wizard of Oz but into a better man as well.