Seven Minutes Of LucasFilm's 'Red Tails' Are Now Online; Plus George Lucas Speaks About Its Hardship, Prequels And Sequels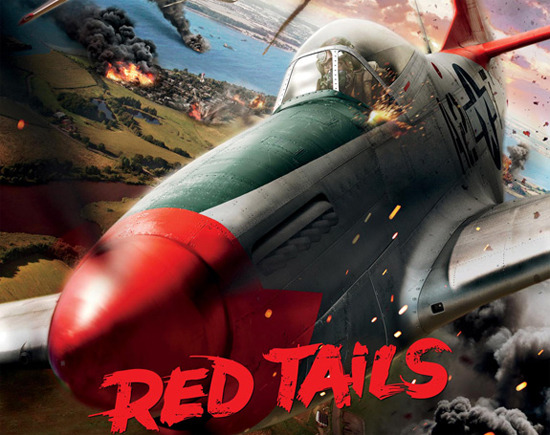 According to executive producer George Lucas, Red Tails is "as close as you'll ever get to [Star Wars] Episode VII." So it seems appropriate that seven minutes of the film have made their way online for your viewing pleasure.
The action epic, over two-decades in the making, is directed by Anthony Hemingway and sports a super-impressive cast such as Cuba Gooding, Jr., Terrence Howard, Bryan Cranston, David Oyelowo, Tristan Wilds, Method Man, Andre Royo, Ne-Yo and Michael B. Jordan, just to name a few. It tells the inspirational story of the Tuskeegee Airman and is the first non-Star Wars or Indiana Jones film LucasFilm has released in almost two decades.
After the jump, watch seven minutes of Red Tails as well as an interview with George Lucas from The Daily Show with Jon Stewart where he talks about why the studios didn't want to make the film, how it's similar to Star Wars and the fact that he has both a prequel and sequel already in his head.
First up, here's seven minutes from Red Tails thanks to Indiewire.
And here's Lucas on The Daily Show. It's a really good interview in which he talks about Hollywood's aversion to "black" movies, potential sequels and prequels and, of course, lots of Star Wars references.
I've been looking forward to this film for a while. Not just because of the inspirational story, not just because of the cast or Lucas' involvement, I'm really excited to see what Anthony Hemingway can do as a feature film director. He's been amazing working with David Simon on The Wire and Treme and though I haven't heard much positive buzz coming out of early Red Tails screenings, I'm still holding out hope this film is a success.
Red Tails opens January 20. What do you think of the footage or Lucas' interview?