New Images Of Nicholas Hoult In 'Warm Bodies,' Amanda Seyfried In 'Gone,' Ethan Hawke In 'Sinister'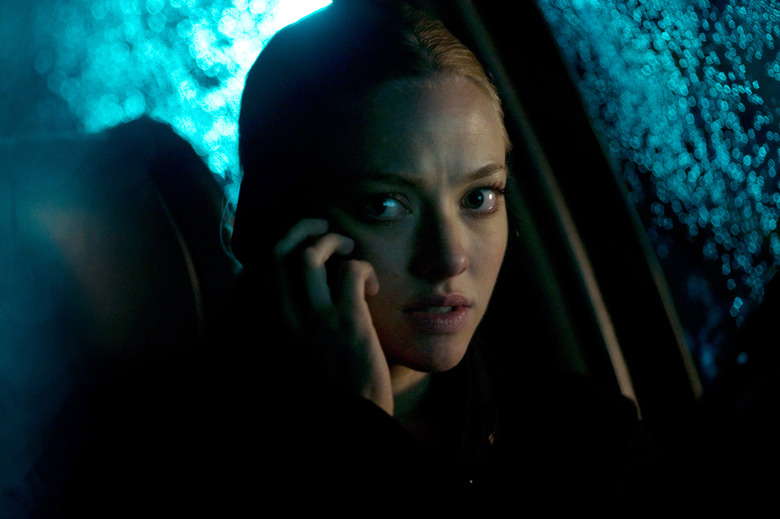 Summit today dropped a bunch of high-res images from the studio's slate for much of 2012. We've seen images from a few of these films — Gone, with Amanda Seyfried, the (sorta) zombie rom-com Warm Bodies with Nicholas Hoult, and The Perks of Being a Wallflower with Emma Watson and Logan Lerman — but here are a few new stills. There are also shots from Man on a Ledge (for which we've seen a trailer and is already screening — it's a solid little b-movie) and some debut shots from the Ethan Hawke thriller Sinister.
The first two images in the gallery above are from Gone, which opens on February 24. Heitor Dhalia directed from a script by Allison Burnett; Daniel Sunjata, Jennifer Carpenter and Sebastian Stan also star. See the trailer here. Here's the synopsis:
In the suspense thriller GONE, Jill Parrish (Amanda Seyfried) comes home from a night shift to discover her sister Molly has been abducted. Jill escaped from a kidnapping a year before and is convinced that the same serial killer has come back and taken Molly. Afraid that Molly will be dead by sundown, Jill embarks on a heart-pounding chase to find the killer, expose his secrets and save her sister.
The next two shots are from Sinister, a thriller written by Scott Derrickson and C. Robert Cargill (who you may know as Massawyrm from AICN) and directed by Derrickson. Ethan Hawke stars, and Vincent D'Onofrio and James Ransone are in the cast. The movie opens on August 24.
A true crime novelist (Ethan Hawke) struggling to find his next big story, moves his family into a house where the horrific murder of an entire family took place. But after finding a box of home videos in which other families are also brutally murdered, his investigation leads him to a supernatural entity that may be placing his own family in harm's way.
There are a couple images from The Perks of Being a Wallflower, which Stephen Chbosky wrote and directed from his own novel. That doesn't yet have a release date, but should hit in 2012.
A funny and touching adventure based on a best-selling novel that has sold over a million copies in the U.S. and has been published in 16 countries and 13 languages, THE PERKS OF BEING A WALLFLOWER is a modern classic about a shy, sensitive teenager caught between trying to live his life and escape it.
There are two images from Man on a Ledge, Asger Leth's thriller starring Sam Worthington as an ex-cop threatening suicide as Elizabeth Banks tries to talk him down and his brother, played by Jamie Bell, works a plan of his own. See the trailer here; the film opens on January 27.
In this edge of your seat, heart-pounding thriller, MAN ON A LEDGE, ex-cop Nick Cassidy (Sam Worthington) stands on the ledge of a New York City hotel after an impossible escape from prison. Is Nick a desperate man or does he have a hidden agenda? As fellow NYPD officer Lydia Mercer (Elizabeth Banks) tries to talk Nick off the ledge, she discovers that Nick may have a plan in the works to prove his innocence and dig up one of the force's biggest conspiracies.
Finally, there is the image from Warm Bodies, from 50/50 and The Wackness director Jonathan Levine. That hits on August 10.
When a highly unusual zombie rescues a girl from imminent death at the hands of his cohorts, their unlikely romance sets in motion a chain of events that will transform him, his fellow dead and maybe even the whole lifeless world.