Mike Patton Scoring 'The Place Beyond The Pines' From 'Blue Valentine' Director Derek Cianfrance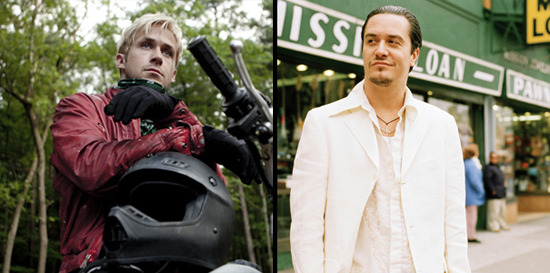 Derek Cianfrance and Ryan Gosling followed up their 2010 film Blue Valentine by shooting The Place Beyond the Pines, a film in which Gosling plays a motorcycle stunt rider and criminal (a familiar role for him) who tangles with a cop (Bradley Cooper) in the beginning of a conflict that involves their sons, as well. The movie also features Eva Mendes, Rose Byrne, Ben Mendelsohn, Mahershalalhashbaz Ali, and Ray Liotta, and is said to be inspired by Jack London.
But the sonic palette of the film might be slightly more modern, as the score is being written by Mike Patton, best known for his work with Faith No More, Mr. Bungle and Fantomas. That's not a choice I ever would have expected, but it might be pretty awesome.
The news comes via a press release from Patton's publicist; there is no info other than that Cianfrance chose Patton for the gig. (And for fans of Patton's various bands, there is also the news that the singer is finishing a new record with his band Tomahawk, which also features Duane Denison of the Jesus Lizard, Trevor Dunn of Mr. Bungle, and badass drummer John Stanier of Helmet and Battles. That should be a late summer release.)
We've run the first couple official images from The Place Beyond the Pines already, and I do love this early description of the movie from Cianfrance: "I have a film called The Place Beyond the Pines, which is all about fathers and guns, and it has motorcycles and guns in it. One thing I wanted to do with Blue Valentine was to make a really violent film without guns in it. The next one will have guns, so it will be easier."
Here's the plot:
Luke (Gosling) is a professional motorcycle rider who turns to bank robberies to support his newborn son, but when he crosses paths with a rookie police officer (Cooper) their violent confrontation spirals into a tense generational fued. THE PLACE BEYOND THE PINES is a rich dramatic thriller that traces the intersecting lives of fathers and sons, cops and robbers, heroes and villain.
Patton has done some minor film scores (like Crank 2: High Voltage and the short film A Perfect Place) but this will likely be his most high-profile scoring gig to date. He's no stranger to film scores, however — his band Fantomas did a record called The Director's Cut in which they covered over a dozen classic film themes. Following are their versions of the title tracks to Rosemary's Baby,  Charade, and Twin Peaks: Fire Walk With Me. And while Patton is best known for his own brand of wild/aggressive stuff, he has also demonstrated a lot of interest in and facility with more classic and nuanced modes of composition. So this could be kinda great.