TV To Film Updates: '24' And 'Party Down' Movies Could Be Underway By Summer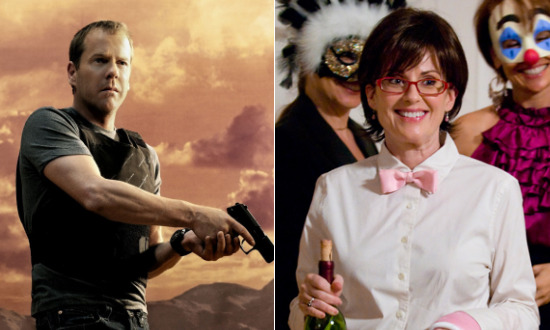 Lately, it feels like any show with any significant following promises a movie on its way out, whether the series in question was a tragically short-lived critical favorite or a hugely popular hit that went on seasons past its prime. Not all of these proposed projects ever actually make it to the big screen, of course, but today we have some minor updates on two very different projects that seem a little more realistic than some others.
Speaking at the Television Critics Association winter press tour this weekend, Kiefer Sutherland confirmed what we've already heard, that the 24 film was on track to begin shooting this spring. Meanwhile, Megan Mullally confirmed that Party Down was still aiming for a late spring or early summer start, just as Adam Scott said last fall. Read more after the jump.
As for casting, Sutherland would not disclose whether the entire cast of the series would be returning, but thanks to producer Howard Gordon we do know that Mary Lynn Rajskub, at least, will be involved.
Meanwhile, Mullally offered some updates on the status of the Party Down movie, which was originally announced last summer. "[Series co-creator] John [Enbom] is writing it right now," she told press, adding that Enbom had already submitted an outline that was "enthusiastically approved" by investors. Mullally also noted that filming would start in late spring or early summer, with everyone from the main cast reprising their roles with the possible exception of Season 1 star Jane Lynch.
According to Mullally, the film will likely pick up where Season 2 left off. But it doesn't sound like that'll stop the movie from exploring other sides of the characters. "I think we're going to see Lydia's ex-husband — Ed i think is name — who was really racist and a misogynist," she said of a possible plot point for her character. Mullally recently joined the cast of Fox's Breaking In, which returns for its second season this spring.
Part of me is still a skeptical about the return of Party Down. (I'm much more certain of the 24 movie.) But then again, I was convinced for years that Arrested Development would never come back to life, and now we're set to see new episodes next year. Here's hoping I'll be proved wrong about Party Down as well.
[Sources: The Hollywood Reporter, Collider]