First Look: Amanda Seyfried As A Porn Icon In 'Lovelace'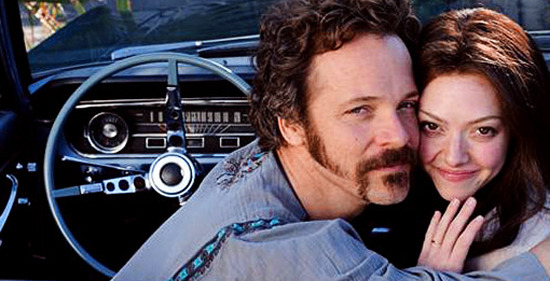 Far more strange than the Great Snow White Race of 2011 was the competition to produce a film depicting the life and times of early porn star and eventual anti-porn activist Linda Lovelace.
One film, Inferno, has Malin Akerman playing Lovelace and Matt Dillon playing her husband, business manager and accused pimp and abuser Chuck Traynor. Then there is Lovelace, which features Amanda Seyfried and Peter Sarsgaard in the same roles, with Rob Epstein and Jeffrey Friedman (Howl) directing. At this moment, it looks like Lovelace is winning this particular race, as the film is the first out of the gate with a legit promo image — complete with clothes, sorry. Check out the full pic below.
EW presents the image. Given how we know the Lovelace/Traynor relationship ends, this one is counter to general expectations about the movie. At least there will be a few moments in the film that aren't rather grim and unpleasant.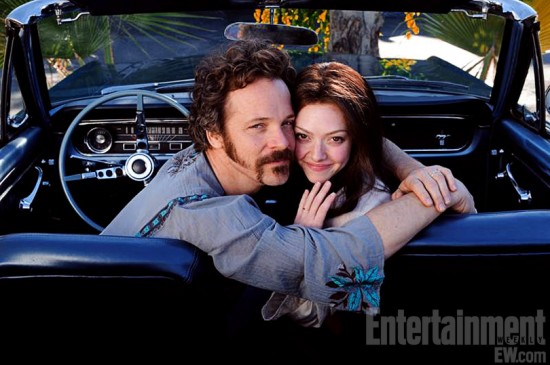 The movie also features Juno Temple, Sharon Stone, Wes Bentley, Hank Azaria, Bobby Cannavale, Chris Noth, Robert Patrick and Adam Brody and cameos from James Franco (as Hugh Hefner) and Demi Moore as Gloria Steinem. So it's a big stunt casting extravaganza at the very least.
But, really, Sarsgaard as Traynor is just about perfect — that could make Lovelace a great companion movie to An Education. He's the real reason I want to see this one, once I put aside the salacious interest in seeing Amanda Seyfried play a porn star. Lovelace is shooting now, and doesn't have a release date at this point.