Jessica Chastain, Mark Strong, And Edgar Ramirez Circling Kathryn Bigelow's Bin Laden Thriller; Chris Pratt Confirmed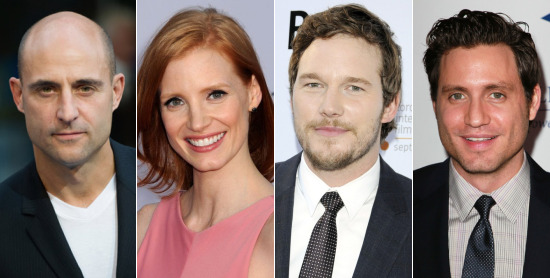 Though we've been hearing rumors and reports for months about who might star in Kathryn Bigelow's untitled Osama bin Laden thriller for months, Joel Edgerton was only the film's second confirmed star when his casting was announced hours ago. (The first, Jason Clarke, signed on back in November.) With just a month to go until the production's targeted start date, however, the cast now seems to be falling into place at rapid speed.
It appears that Parks & Recreation star Chris Pratt has accepted the offer that was extended to him last month, making him the movie's third star. Meanwhile, Jessica Chastain, Mark Strong and Edgar Ramirez are said to be circling the project as well. More details after the jump.
As previously discussed, the Mark Boal-penned thriller centers around Navy SEAL Team 6's journey to track down and kill the terrorist leader. Although Bigelow and Boal have been developing the film since 2010, last spring's death of bin Laden sent the two scrambling to rework the script in order to reflect the real-life turn of events. Since we don't know specifics about any of the roles at this point, it's unclear how many characters remain to be cast. Whatever the number, Clarke, Edgerton, and Pratt are a great start, and Chastain, Strong, and Ramirez would make fantastic additions.
All of the (confirmed and potential) newcomers are plenty in-demand at the moment. In addition to his ongoing part on NBC's Parks, Pratt has a role on Nicholas Stoller's The Five Year Engagement. Strong was last seen in Green Lantern and Tinker Tailor Soldier Spy, and will next star in Disney's John Carter. Ramirez played the title role in Carlos, and stars in March's Wrath of the Titans. But it's Chastain who seems to have kept the busiest: The white-hot actress appeared in some six films in 2011, and has four more lined up for this year including The Wettest County, Tar, Mama, and the untitled Terrence Malick project.
Bigelow's untitled film begins enters production next month for a December 19 release.