'Tangled Ever After' Clip Embraces Its Inner Tolkien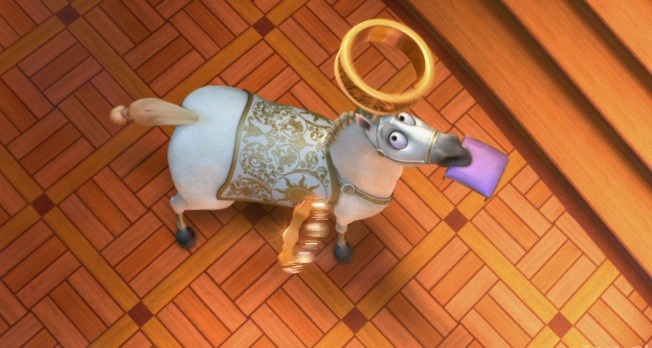 I'm going to go out on a limb and say Beauty and the Beast 3D will be the best film released this January. We already know it's a great movie by itself and, at Comic Con several years ago, Disney made it perfectly obvious the 3D conversion was gorgeous. It then announced a short sequel to the 2010 hit Tangled, Tangled Ever After, would precede the Best Picture nominee and a perfect package just got a little sweeter. After the jump, watch a clip from the short that makes it seem like it was maybe inspired by The Lord of the Rings. Just a little.
Thanks to Yahoo for the clip, which is basically a nice place setter for the plot of the entire short film.
Come on. That shot of the rings in slow mo? Frodo from Fellowship of the Ring in the pub or Gollum from Return of the King in Mount Doom much?
As per our previous article on the short, here's the plot description:
The Walt Disney Studios proudly announced today that directors Nathan Greno and Byron Howard, the talented team behind Disney Animation Studio's global blockbuster Tangled, will premiere a delightful new animated short film spotlighting the royal wedding of Rapunzel (Mandy Moore) and Flynn Rider – a.k.a Eugene – (Zachary Levi) in front of each screening of Beauty and the Beast in 3D, which opens on January 13, 2012.By popular demand, Greno and Howard are bringing back some of Disney's most beloved characters when Tangled Ever After picks up where Tangled left off. The Kingdom is in a festive mood as everyone gathers for the royal wedding of Rapunzel and Flynn. However, when Pascal and Maximus, as flower chameleon and ring bearer, respectively, lose the gold bands, a frenzied search and recovery mission gets underway.  As the desperate duo tries to find the rings before anyone discovers that they're missing, they leave behind a trail of comical chaos that includes flying lanterns, a flock of doves, a wine barrel barricade and a very sticky finale. Will Maximus and Pascal save the day and make it to the church in time?  And will they ever get Flynn's nose right?
Tangled Ever After is the perfect accompaniment to Beauty and the Beast, which is returning to the big screen in Disney Digital 3D and introducing a whole new generation to the Disney classic with stunning new 3D imagery. Beauty and the Beast was nominated for six Academy Awards, winning Oscars for Best Song, by the renowned Alan Menken and Howard Ashman, and Best Original Score (Menken).
Anyone going to see Beauty and the Beast 3D next weekend? What do you think of the clip?