'Thin Ice' Trailer - Greg Kinnear And Billy Crudup Swindle Alan Arkin In Wisconsin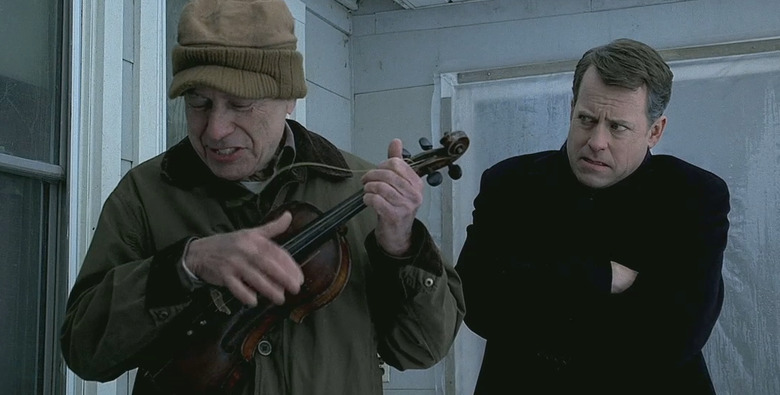 We first heard about Jill Sprecher's Thin Ice when Greg Kinnear, Billy Crudup, and Alan Arkin signed on to star almost two years ago, back when it was still titled The Convincer. But the film hasn't drawn much attention since then; even after it premiered at last year's Sundance, I don't remember hearing much about it. After seeing this sharp new trailer, though, I'm happy to be reminded of its existence.
In what sort of looks like Fargo-lite without aping the Coen Bros. too closely, Kinnear plays Mickey, a down-on-his-luck insurance agent in Kenosha, Wisconson. He stumbles across an opportunity to make some shady money off of one of his customers (Arkin), who's unaware of the true value of one of his possessions. Unfortunately, Mickey makes the mistake of involving an unpredictable ex-con (Crudup) in his exploits, and from there things quickly spin out of control. Watch the trailer after the jump.
[via First Showing]
Head over to Apple for the hi-res version.
The cast, which also includes Lea Thompson and Bob Balaban, looks strong overall, but Kinnear's talents (and his face, somehow) seem particularly well suited for this offbeat mix of dark humor and noirish thrills. Thin Ice received positive reviews at last year's festival, though some critics noted that it might not have much commercial appeal. If the latter proves true, it'll be too bad, because this looks like a smart little comedy.
The film gets a limited release February 17, the same weekend as Ghost Rider: Spirit of Vengeance, The Secret World of Arrietty, and This Means War.
Synopsis:
Mickey Prohaska (Greg Kinnear) is a small-time insurance agent looking for a way to jump-start his business, reunite with his estranged wife (Lea Thompson) and escape the frigid Wisconsin weather. This self-proclaimed master of spin believes that salesmanship is about selling a story — all he needs is a sucker willing to buy it. He hits pay dirt with a lonely retired farmer (Alan Arkin) who is sitting on something much bigger than an insurance commission. But Mickey's attempt to con the old man spins out of control when a nosy, unstable locksmith (Billy Crudup) with a volatile temper dramatically ups the stakes, trapping him in a madcap spiral of danger, deceit and double-crossing. Blending dark comedy and delirious Midwestern noir, THIN ICE reaches a breaking point that no one — least of all Mickey Prohaska — could ever see coming.