Universal Doing 'Bridesmaids 2' Without Kristen Wiig?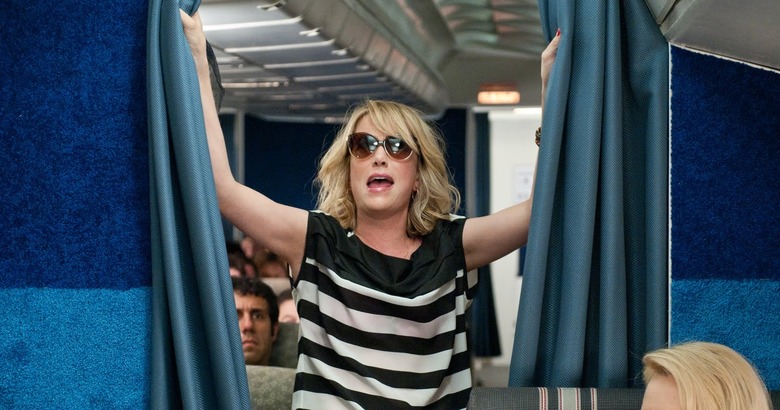 Though Melissa McCarthy was the big breakout star of last spring's Bridesmaids, it was really Kristen Wiig's movie. The Saturday Night Live vet not only played the lead, she also co-produced the project and penned its script with co-writer Annie Mumolo. It's tough to imagine seeing another Bridesmaids without Wiig — but apparently, that's exactly what Universal is considering.
With Wiig and Mumolo reportedly uninterested in doing a sequel, the studio is now weighing the possibility of moving forward without them, and pinning its hopes on McCarthy to help get the project going. More details after the jump.
While Univeral isn't happy about Wiig's refusal, the studio has indicated that it is willing to go forward without Wiig, with McCarthy as the key player. McCarthy has said in the past that she'd be open to doing a sequel. Whether director Paul Feig, who's also previously expressed his willingness to consider a sequel, will be back is not clear at this point.
As for why Wiig is uninterested in a second Bridesmaids, one possibility is friction between Wiig and Universal. The six lead actresses (Wiig, McCarthy, Maya Rudolph, Rose Byrne, Wendi McLendon-Covey and Ellie Kemper) each received $100,000 bonuses for their work on the last film — not nothing, but an underwhelming figure considering that the film grossed $288 million on a $32 million budget. But salary wouldn't have been an issue on Bridesmaids 2, as THR notes that Universal head Ron Meyer probably offered Wiig an eight-figure sum to come back.
Or perhaps it's just that Wiig's already got plenty on her plate with the smaller projects she's working on. Jennifer Westfeldt's Friends With Kids, which reunites Wiig with Bridesmaids co-stars Rudolph, Jon Hamm, and Chris O'Dowd, is scheduled to open this spring, and Wiig's passion project Imogene is due out sometime this year as well. In addition, she's lined up to star opposite Robert De Niro in The Comedian, directed by Sean Penn, and is working on adapting the novel Clown Girl for the screen with an eye toward directing.
It's certainly still possible that Wiig will change her mind, but given that we've been hearing for months that she's not interested in a sequel, it also seems plausible that Universal really will just make the film without her. As much as I loved the first Bridesmaids and would like to see another, the idea of a Bridesmaids 2 without the star, producer, and writers that helped make it what it is doesn't sound appealing. Would you watch a Bridesmaids without Wiig?