Don Cheadle's Miles Davis Movie Will Be A Cubist Gangster Pic, Whatever That Means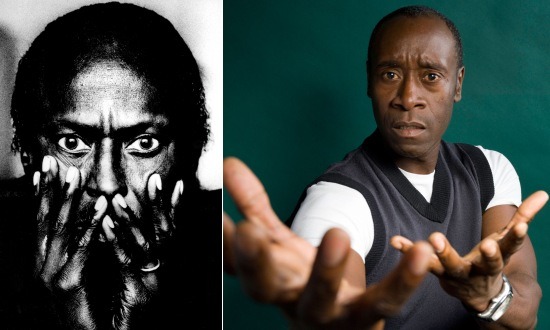 When we first reported on the impending Miles Davis biopic from Notorious director George Tillman Jr. this past fall, we wondered how that news might affect the other Davis picture, which actor Don Cheadle has been developing for the past several years. As it turns out, Cheadle's not too worried — because his story won't be a straightforward biopic so much as a "cubist" "gangster pic" set in 1979, when the iconic American musician wasn't even active in the music world. Wait, what? Read his quotes after the jump.
Asked about Tillman's competing movie, Cheadle seemed unconcerned. "Look, if the world is ready to have two Miles Davis movies, fantastic," he said. "He should have eight or 10 of them." However, it seems like the real reason he's not fazed by Tillman's picture is because Cheadle's doesn't sound at all like what you'd expect from a movie about the late jazz great.
I don't think anyone's going to be making the kind of movie we're making. It's not a biopic, per se. It's a gangster pic. It's a movie that Miles Davis would have wanted to star in. Without throwing history away, we're trying to shuffle it and make it more cubist. The bulk of it takes place in '79, in a period where he actually wasn't playing. But we traverse a lot of it his life, but it's not a cradle to grave story.
Davis became increasingly troubled throughout the first half of the '70s, as his health problems and addictions worsened, and he withdrew from the public eye for several years starting in 1975. Though he continued to record on a sporadic basis during that period, it wasn't until the early '80s that his music career started up again. So Cheadle's decision to focus on the late '70s is surprising, but also pretty intriguing since it suggests a unique take on Davis' tale that's bound to be very, very different from Tillman's version.
The whole "cubist" thing, though — I honestly have no idea. If you have any guesses as to what a cubist gangster pic would look like, feel free to explain in the comments.