Sequel Bits: 'Star Trek 2,' 'Piranha 3DD,' 'Killer Klowns,' 'Entourage', 'Men In Black 3'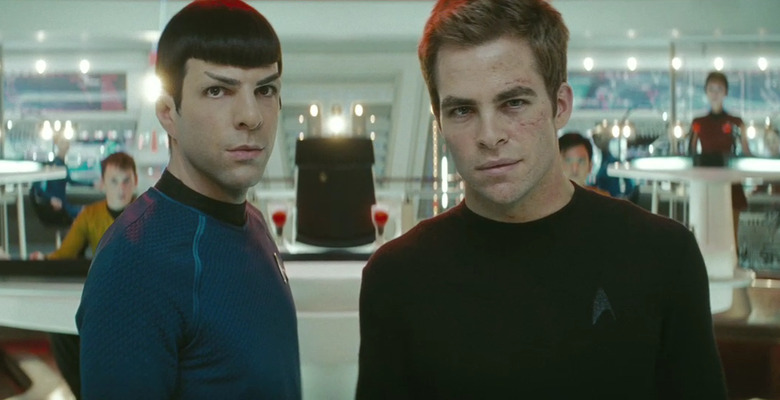 Everything gets a sequel now: big tentpole event films, popular TV shows, and low-rent horror films. Especially low-rent horror films. After the break you'll find:
The latest minor rumblings on J.J. Abrams' sequel to Star Trek,
Word on a new version, a 'requel' if you will, of Killer Klowns From Outer Space,
Assurance that Piranha 3DD isn't getting dumped on video in the US,
Turtle's comments about an Entourage movie,
and the first image of Jemaine Clement in Men in Black III.
At this point, we know very little about what J.J. Abrams, Roberto Orci, Alex Kurtzman and Damon Lindelof have cooked up for the sequel to Star Trek. It seems like the production wants a Latin actor for the bad guy, who may or may not be Khan or another character from the classic Trek TV series. We've heard that no further actors from the classic crew setup will show their faces, as Leonard Nimoy did in the recent Trek revival.
Abrams did recently comment on his series' relationship to the Original Series:
The notion that when this one character, Nero, arrives in his ship, that basically the timeline is altered at that moment, so everything forward is essentially an alternative timeline. That is not to say that everything that happened in The Original Series doesn't exist. I think, as a fan of movies and shows, if someone told me the beloved thing for me was gone, I would be upset. But we didn't do that.  We're not saying that what happened in that original series wasn't good, true, valid, righteous and real. Let people embrace that. We're not rejecting that. That, to me, would have been the big mistake. We're simply saying that, 'At this moment, the very first scene in the first movie, everything that people knew of Star Trek splits off into now another timeline.'
Nothing really new there. We probably won't get a lot more info about the Trek sequel for months to come, but TrekMovie says there are some clues out there. According to Mike Johnson, who is writing the current Star Trek comic series, the first issue of the comic, published in September, and the fourth, published last week, both contain minor clues to a subplot in the new Trek sequel.
What are they? Your guess is as good as ours. He said,
One of the great things about working with Bob [Orci] is that we are able to use the ongoing series to very subtly lay in clues to the next movie. There might even be a tiny hint of a subplot in the first issue.
Don't go looking for big obvious clues, but I'll be curious to see if any really dedicated fans can figure out what he's talking about.
At the beginning of this week, word came out that Piranha 3DD, the sequel to last year's over the top 3D blood and fish-fest, will be released direct to DVD in the UK. Fear not, however, that you'll miss a theatrical engagement in the US. Dimension has assured Bloody-Disgusting and other outlets that the US will get the film in a theatrical 3D run, and other territories will, too.
The film stars Danielle Panabaker, Matt Bush, Chris Zylka, David Koechner, Meagan Tandy, Paul James Jordan, Jean-Luc Bilodeau, Hector Jimenez, Adrian Martinez, Clu Gulager, Gary Busey, Katrina Bowden, Christopher Lloyd, Ving Rhames, Paul Scheer, and David Hasselhoff. It is described as,
A Horror sequel in which a species of violent prehistoric piranha continue to terrify a small town. The chaos unleashed in 'Piranha' (2010) by a group of the omnivorous fish, set free by an earthquake that split the floor of a lake, may only have been the beginning. The tests of marine biologist Carl Goodman (Christopher Lloyd) indicate that these fish were only adolescents, suggesting their parents would be even fiercer adversaries. When the piranha make their way into the town's plumbing system, the terror spreads. Soon swimming pools and even the town's brand new waterpark are infested by the bloodthirsty critters. Can the town's residents, marshalled by survivor of the first movie Deputy Fallon (Ving Rhames), find a way to combat their sharp-teethed tormentors?
Anyone who frequented the horror and sci-fi sections of video stores in the very late '80s and throughout the '90s probably saw Killer Klowns from Outer Space, or is al least familiar with the distinctive box art.
Now creators Charles, Edward and Stephen Chiodo are working on a 'requel,' i.e. an Evil Dead II-style sequel that will partially remake the original film but offer new story elements and, hopefully, effects and kills.
Grant Cramer, who played Mike Tobacco in the original, will return to ""be the mentor to the two new young leads that have to try save the world from the Klowns when they return." Those Klowns, of course, being aliens who look like clowns, who land on earth in their circus tent-like ship with the intent of turning humans into food. The Chiodo Brothers have a script and are trying to get funding and distribution in place. [Facebook]
Talk has flown about an Entourage film sequel to the finished TV show, and Jerry Ferrara, who played Turtle, talked to the Wall St. Journal about the possibility of a film:
Finally, from the New Zealand Herald via the Playlist, here's the first image of Jemaine Clement as the alien big bad in Men in Black III, which once again stars Will Smith and Tommy Lee Jones, and adds Josh Brolin as the young version of Jones' agent K. We don't know much about what specific sort of antagonizin' Clement will be doing in the film, but anyone who has seen the other two films in the series can probably make a guess. MiB III opens on May 25.