Terrence Malick: 'The Tree Of Life' Storyboards Reveal Cain & Abel Scenes; Actors Talk Upcoming Films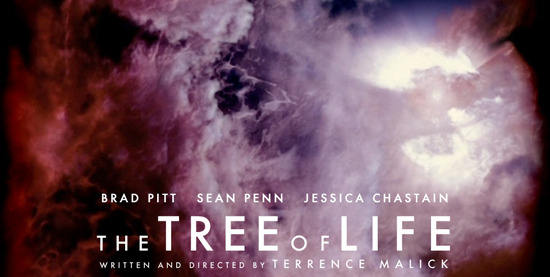 Awards and top ten lists and all of that be damned: months after its release people are still talking about Terrence Malick's The Tree of Life, and with good reason. Dispute the effectiveness of the bookending Sean Penn sequences, sure, but the core of the movie is a powerful family story that works precisely because of Malick's characteristic approach.
The film has that small, solid family center, but also has much bigger things at the fringes, and recently released storyboards clue us in to plans that would have put another layer of narrative into The Tree of Life. The boards show a sequence featuring Adam, Eve, Cain and Abel — a story that could have either provided more thematic weight for the film, or bogged it down with a too-obvious layer of allegory. Likely the latter, given that the scenes didn't end up in the film, and may not have even been shot.
Regardless, check out the boards below.
Artist Mark Bristol featured the boards, which are his creation, on his own site. Here's one of the most detailed shots; you can see the rest at the previous link.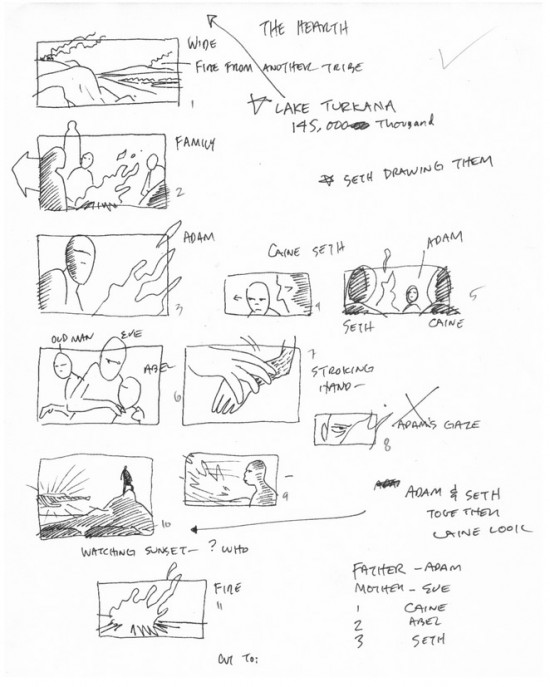 That location is Lake Turkana, in Kenya and Ethiopia, often called the 'cradle of humanity.' An ideal location for the film, but a quick search doesn't turn up any results that suggest Malick actually took the production there.
Looking beyond The Tree of Life, Malick has an untitled romantic drama (often referred to as The Burial) which stars Ben Affleck, Rachel McAdams and Javier Bardem. And evidently Michael Sheen has a part in the film, too. He told Mark Kermode and Simon Mayo [via The Playlist] that he ended up with a role at the last minute:
My girlfriend [McAdams] was in a film that Terrence Malick did so I went to visit her on set, and apparently, if you're an actor and you turn up on a Terrence Malick set, he asks you to be in his film. So I got to be Ben Affleck's boss for a day.
I wonder if there was another actor displaced by the unexpected arrival of Sheen? Sorry, guy. We've known for years that Malick has this sort of process, as evidenced by the regular parade of actors in minor roles on The Thin Red Line — basically anyone who could make it to the shoot could have a part in the film, it seemed. Or could shoot a part in the film, at least, given how much material we also know was cut from the movie. So we might not even see Michael Sheen in the final cut of this one.
Finally, we know that Terrence Malick has two films to shoot this year: Knight of Cups and Lawless, both of which feature Christian Bale. Lawless is set to also feature Rooney Mara, and while she's cautious about discussing the film with EW, she does comment on the possibility of doing the movie while declining to give away any plot:
[Lawless is] something that I hope to do, but it's unfortunately not until September, so it's a ways away... He's one of the great filmmakers out there. After working with David [Fincher], it's really hard—the bar has been set at sort of an unreachable height. I want to work with people who have a vision and who are uncompromising in the way that they make films, and Terry is one of those people. He's incredible. He's one of the nicest people I've ever come into contact with.